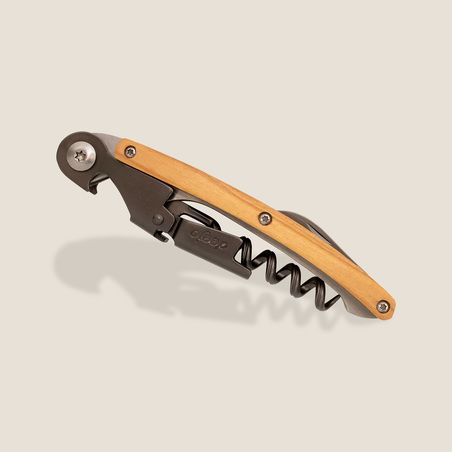 DEEJO WAITER'S KNIFE
Because entertaining your guests is not only about good food, we have developed this professional waiter's knife with the same characteristics of our Deejo knives: elegance and performance. Elegance first of all because it is made of the same materials and finishes as our knives. Performance secondly thanks to its double lever which allows to remove a cork in two steps without effort and in silence.
Stainless steel waiter's knife with anthracite grey titanium finish. Double articulated lever and quick bottle opener. 5 spiral corkscrew with non-stick coating. Micro-serrated blade. Olive wood handle.
SPECIFICATIONS
Material : Z40C13
Weight : 75 grams (2.64 oz)
Closed length : 11 cm (4.33")
Open length : 16 cm (6.30")
Blade length : 3 cm (1.18")
Thickness : 1,7 cm (0.67")
DETAILS
The olive wood that adorns the handle of these Deejo waiter's knife is known for its robustness and antibacterial qualities. It is a great classic of cutlery. Widely acclaimed by enthusiasts for the beauty of its natural grain, each piece is unique depending on the tree from which it is fashioned, illuminating your Deejo with superb arabesques of beige, without fear of humidity or time.

Obtained by fixing grey titanium onto a stainless steel base, this finish has a double advantage. First, it reinforces surface resistance to shocks and scratches, and second, it renders sublime the pure lines displaying a temperance pushed to its peak. A discreet finish par excellence, the steel acquires a slight patina over the years to further enhance these very beautiful pieces of cutlery.
ESSENTIAL
A perfect blend of tradition and modernity, the elegant and pure lines of our waiter's knife are wonderfully adorned with the noble warmth of olive wood to contrast with the efficiency of its titanium finish.

Just like our knives with their irreproachable edge, we have taken particular care with the double lever opening system that will guarantee perfect removal of any type of cork.
CARE GUIDE
SPECIFIC PRECAUTIONS FOR CLEANING: hand-wash your Deejo waiter's knife using a damp sponge, avoiding the abrasive side of the sponge. These Deejo are not dishwasher safe so risk irreparably damaging the knife's articulating system and the wooden handle.
SHIPPING AND RETURNS
Orders placed before noon (Greenwich time) are dispatched the same day. Delivery times are 48H/72H in Europe and 2 to 4 days in the rest of the world.

Satisfied or refunded: if your product is a catalogue product, you have 14 days to return it to us and obtain a refund.

SPECIFIC CASE OF CUSTOM ORDERS: all our knives can be personalized via our configurator.

In accordance with the current legislation in force, products made to measure are not eligible for return or exchange.