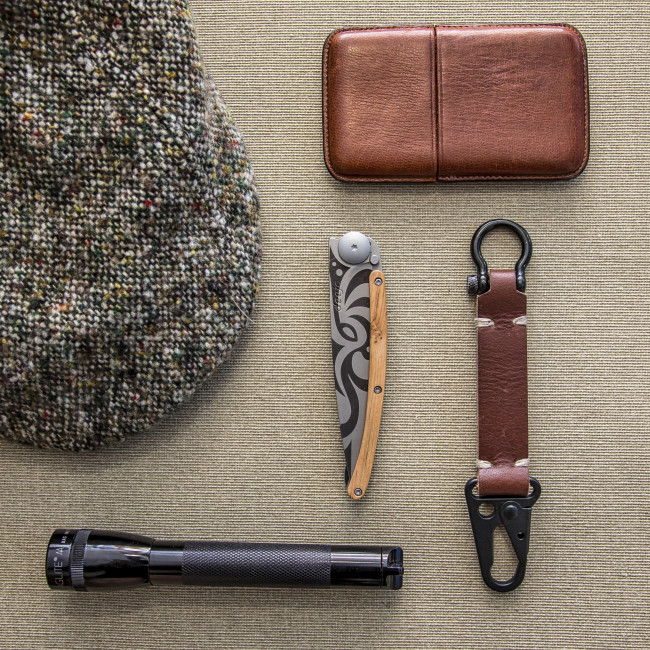 The pocket knife is a staple of a man's everyday carry arsenal. It's quite possibly the most important piece, especially for guys who spend a majority of the day tackling cutting jobs both big and small.
Pocket knives get the most real work but are typically the last everyday carry item to get an upgrade.
But when was the last time you bought a new pocket knife?
There's never been a better time to upgrade your pocket knife, and there's never been a better knife to buy than one from the Deejo family of knives.
Deejo knives began with the desires of two knife enthusiasts – Luc Foin and Stéphane Lebeau – and their eagerness to recapture the pleasure of carrying a simple blade wherever the day took a man.
After creating a versatile, function and aesthetically-pleasing piece of cutlery, the Deejo founders soon realized that every single customer is unique with different wants in a pocket knife.
This uniqueness prompted the company to offer customizable knives which allow people to select preferred blade sizes, designs, and even the composition and appearance of the knife handle.
If you've been carrying around the same pocket knife for years, it's time to upgrade to a better everyday cutting tool. Here are some reasons to trade up to a Deejo.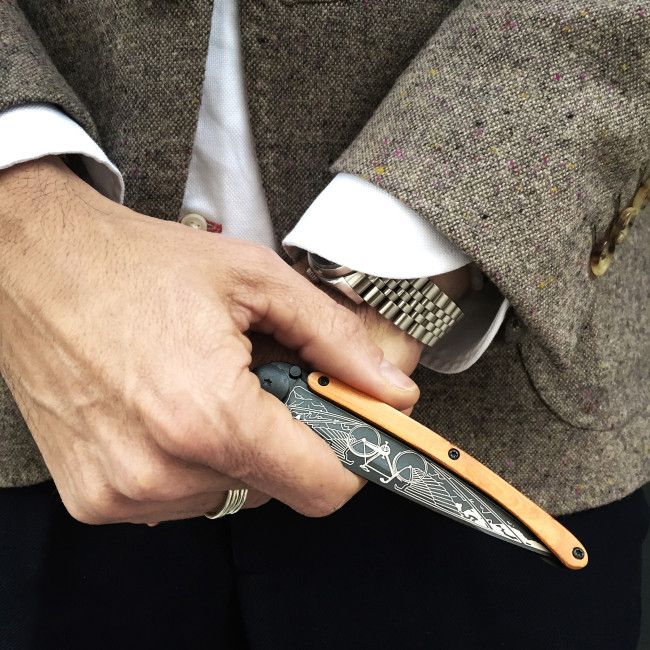 Pocket Knives Reflect A Man's Style & Taste
Men choose a watch based on personal style but pick a pocket knife usually based on function and nothing more.
Finally, function meets style.
Customize your new knife choosing from any one of Deejo's gorgeous heirloom-quality designs or model your own unique pocket knife on their website.
After choosing a blade design and the finish — pick from a mirrored finish, mat grey titanium or black titanium – custom-make the handle to really pimp out your new EDC piece.
Decide on Deejo Naked, Deejo Wood or Deejo Colors to take your pocket knife from minimalist to loud and brash in a few mouse clicks.
Customizing a pocket knife is almost as much fun as carrying. Almost.
Your Everyday Carry Needs Evolve
A pocket knife should handle every task while remaining discreet.
Sure, your current knife does the job, but it's probably taking up a good bit of real estate in your pocket.
Deejo knives are featherweight and so unbelievably light, you'll likely forget it's in your pocket until its time for action.
The total weight of each knife is determined by the materials and design of the knife, but Deejo knives come in three weight options — 15, 27, and 37 grams.
The slim profile of the knife isn't just great to slide in your back pocket. It can fit into a backpack, travel briefcase, in the glove compartment or anywhere you'll need quick access to a versatile blade.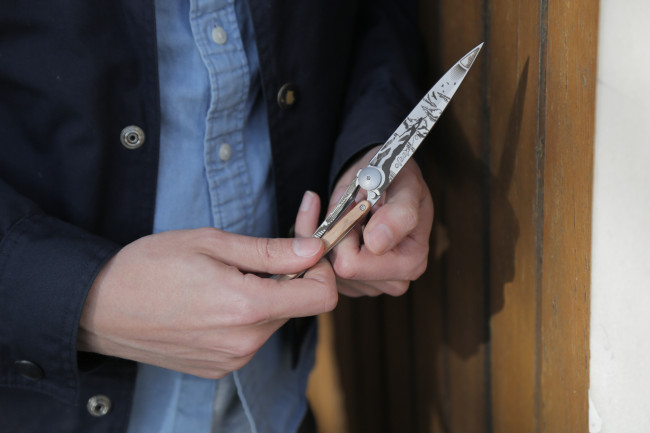 Pocket Knives Are A Talking Point
If you take the average pocket knife out in front of people, there's a good chance they won't cast a second glance unless the blade is meticulously and expertly designed to catch the eye.
Deejo blades are created with a "wow factor" in mind.
Your customized pocket knife will get more than a few inquiries and requests of "hey can I see your knife for a minute?" from everyone close enough to see the subtle beauty of each Deejo knife.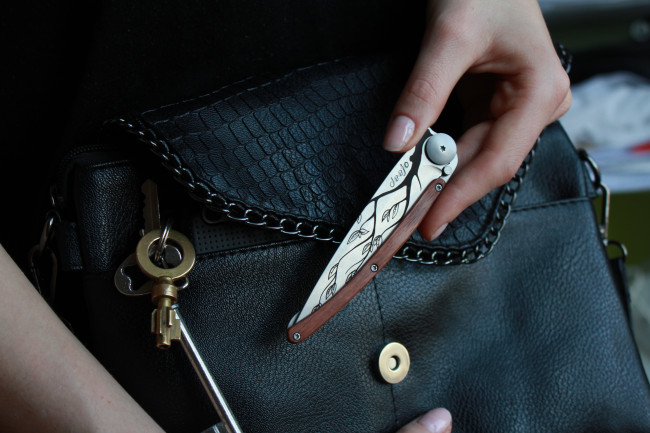 A Signature Pocket Knife Is An Heirloom
Heirlooms are a vital piece of any family history, handed down from generation to generation for as long as man has worked with his hands.
These antiques often tell the stories that would otherwise be forgotten.
Sons covet dad or grandad's knife just because it belongs to an elder they admire. With a Deejo knife, your son or grandson will want the blade because it's yours and also because it's so damn cool.
If you're the first generation gifting a knife down the family tree, what better way to birth the tradition than with one of Deejo's customizable knives.
The company even offers a tattoo engraving kit to etch every generation into the blade to make the knife a true family inheritance.
Even if you're not in the market for a new pocket knife quite yet, you owe it to yourself to check out the Deejo website and tinker around with the Create My Deejo tool.
If you're not buying one for yourself, the knife makes a fantastic Christmas present, birthday surprise or Father's Day gift.
The reasonable prices – $29 to $80 depending on the materials and amount of customization – won't ding the wallet, and the knife is sure to be well received.
SHOP NOW