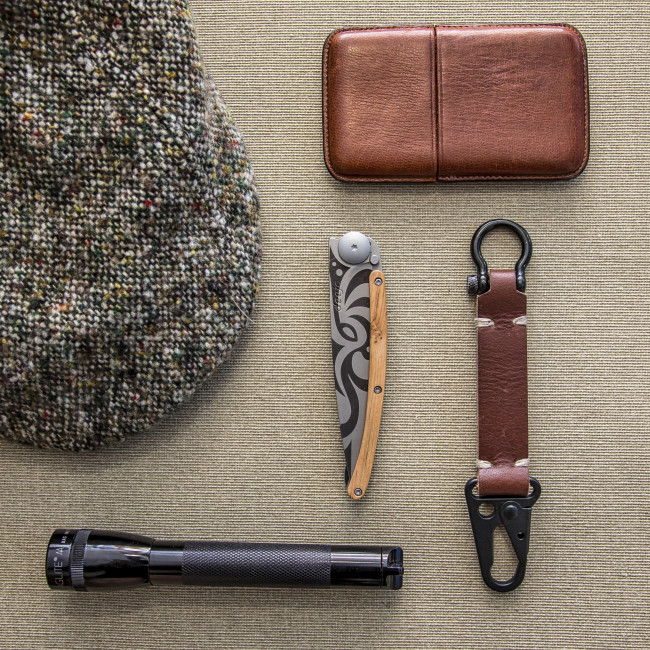 Pocket knives have been around for ages, and over time have become a standard tool for everyday use in our lives. From their practicality to their ability to tackle tasks like cutting twine, opening packages, and slicing vegetables on a picnic- we carry this tool for one easy reason: to cut things whenever and wherever.
And unless you already own a Deejo, your pocket knife (or even your pocket knife collection) may be due for an upgrade!
Just think about it, it's an object that's always with us, whether in a back pocket or in a bag, don't you think that your traditional pocket knife should be a bit more personal? At Deejo, we believe that the best knife is one that can get the job done well but that also reflects your personal style, identity, or passions.


The Deejo Pocket Knives Experience
Deejo knives began with the desires of two knife enthusiasts – Luc Foin and Stéphane Lebeau – and their eagerness to recapture the pleasure of carrying a simple blade wherever the day took a man.
After designing a functional, versatile, and aesthetically-pleasing piece of cutlery, the founders soon realized that every customer is unique with different wants in a pocket knife.
This uniqueness prompted the company to offer customizable knives which allow people to select their preferred blade sizes, steels, tattoos (designs), composition, and overall appearance of the knife handle online and in just a few minutes.
And while you may love that same good old knife that has been in your pocket for years, it's time to upgrade to an even better everyday cutting tool that 'screams' you!
There are plenty of reasons why you shouldn't wait any longer to get your hands on a Deejo, let's go over them together.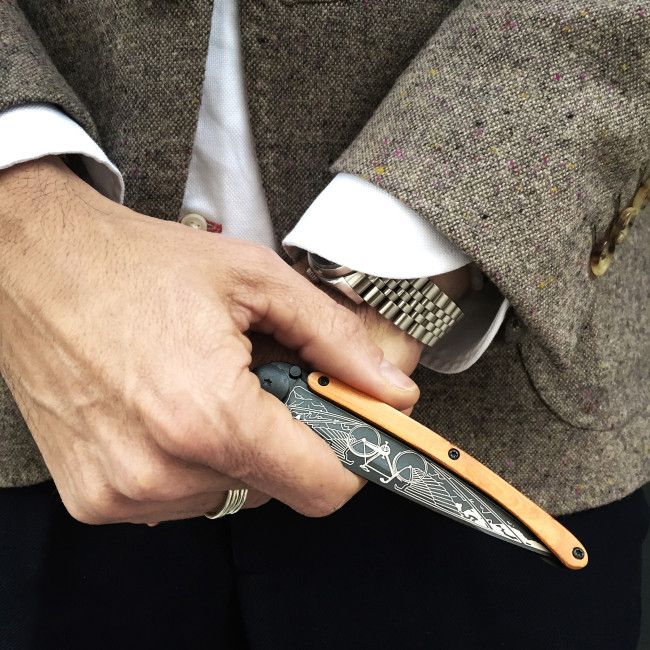 1- What pocket knife is best?
A customizable pocket knife of course! Pocket knives should be an extension of oneself, they should be able to match your lifestyle and passions- of course, while getting the job done!
Just think about how you tend to choose a watch, jewelry, or even a backpack. You tend to think about your personal style and the functionality of these pieces- but have you ever thought about doing the same with your pocket knife? Today, many of us tend to solely focus on a knife's functionality and nothing more.
But with Deejo blades, function finally meets style. Your personal style.
A 100% customizable folding knife.
The Deejo knife company is one of the world's first online platforms that allow guests to enjoy a 3D experience of building their own heirloom-quality stainless steel pocket knife. This means guests can compare, pick, and choose from over 50 blade designs, that include motifs like landscapes, animals, music, landscapes, and fantasy.
Guests may also choose from a variety of steel finishes like mirror, grey, or black titanium. And pick from an assortment of smooth and high-quality handle materials like juniper wood, composite, carbon fiber, or even gold-gilded.
Most importantly, guests are invited to add the final touch to their signature folding pocket knife by adding an engraved message on the knife's handle. The possibilities are endless. Engrave a name, a special date, or perhaps a quote that speaks your outlook on life.

A personalized knife that reflects you, and is made by you? Many think that it's hard to come by, but we are here to tell you that Deejo offers it (and does a good job!). We've even heard that the experience of customizing a knife on the platform is almost as much fun as actually carrying it! - Well, almost…

How much does a pocket knife cost?
For those interested in Deejo's price point, you can expect their knife prices to start at a low price point of $35 for their small or 'mini' knives and they can range up to $100 depending on the customization options chosen. Deejo also offers a small range of luxury Damascus steel DS93X 37g knives forged in Sweden, priced at $399.99, and this item also comes with a leather sheath.
Deejo has offered personalizable pocket knives that are well worth your money for years now. And at the same time, the company is constantly innovating and coming out with new items and blade designs. Most notably, this year, Deejo released an excellent range of decorated blades like Mountain, Stars & Stripes, and Viking Vegisir designs.
So if at the end of the day you are looking for a new knife, created with a 'wow' factor in mind, Deejo is your go-to. Its meticulously designed blade is sure to catch everyone's eye!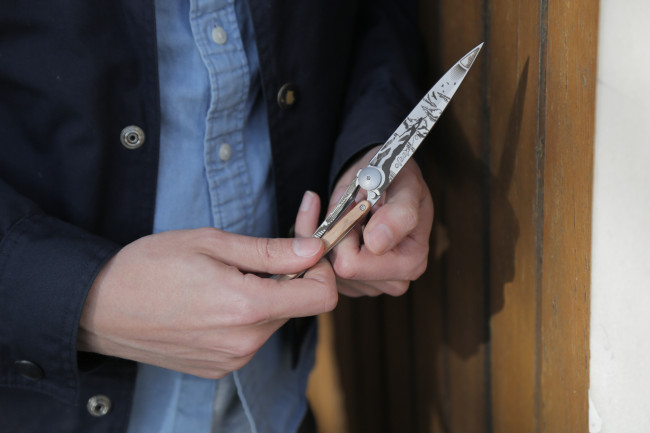 2- Discreet, Lightweight, Classy - It can be hard to find
In an industry full of big names and popular knife models, it can be hard to find what you are really looking for. If you are only looking for a pocket knife to handle big jobs, then Deejo is probably not for you. Deejo blades were forged to handle simple everyday tasks while remaining discreet and beautiful.
Discreet
Deejo knives are not here to replace machetes, tactical knives, hard-use folding knives, or multi-tools. Actually, they are here for quite the opposite reason. Deejo is the go-to knife for those interested in smooth, elegant designs and completing simple everyday tasks. They are the perfect knife to add to a small knife collection and to take out for special occasions, or to offer to someone who might not otherwise carry a pocket knife.
Deejo leaves the aggressive designs and the specific-use functions to the others and focuses on bringing the simple pleasure of carrying a pocket knife to all.

This is where Deejo's excellent lightweight design and small nature come into play.

Lightweight
Weight is an important factor for anything you may carry all day long. And Deejo has really taken this into consideration, where they've built these knives that are unbelievably lightweight without compromising on the design quality or functionality.

These stainless steel knives are so light, that you'll likely forget it's in your pocket until it's time for action. Their slim profile isn't just great to slide into your shirt pocket, it can fit anywhere. Anywhere, you would need quick and easy access to a versatile blade.

The total weight of each of Deejo's best models falls into three weight options- 0.5 oz (15g), 0.95 oz (27g), and 1.3 oz (37g). The 0.5 oz model or Deejo's 'mini' knife is the ideal knife for those who have specific weight constraints on outdoor adventures like high-altitude mountaineering.

Classy

A classy knife is one that you will want to take out and show. To show others without having them flinch at the sight of a knife.

Deejo designed their folding knives with this aspect in mind. The knife's slim and ergonomic features make it the perfect canvas to add a blade tattoo with meaning.

The designs themselves have been created by Deejo's in-house graphic designers as well as by special partners and guest collaborations. And these motifs are then delicately lasered onto the blade, ready for you to carry!

And while the physical appearance of an EDC pocket knife with class and elegance is important, we can't forget that these knives also share a story…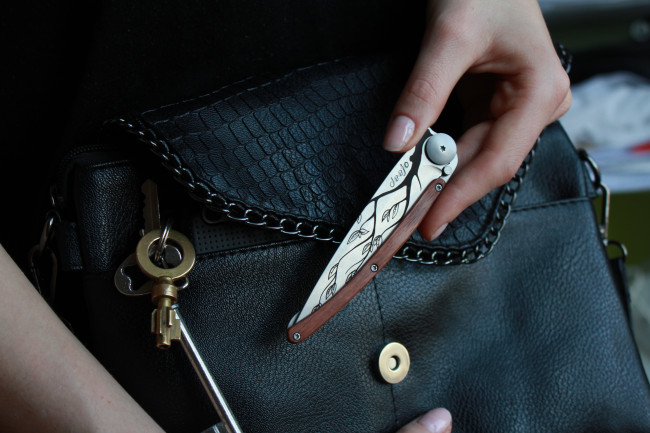 3- Made With Heirloom Quality, It's The Knife You'll Want To Pass Down
When you create a Deejo, you are not just designing a signature steel pocket knife- you are creating a one-of-a-kind heirloom. Heirloom items are a vital part of any family history, handed down from generation to generation. They tell and share stories, that otherwise may be forgotten.
And while we tend to think of passing down engagement rings and military memorabilia, a unique pocket knife is also a good item to start a new family tradition. So, if you are the first generation gifting a knife down the family tree, what better blade to use than one of Deejo's customizable knives? Compare the different blade designs and find one that has meaning to you, and don't forget to add a special message to the handle.
And if you are really looking for a one-of-a-kind blade, Deejo offers a Tattoo Engraving Kit so that you can etch every generation into the blade and make the knife a true family inheritance.
4- A Pocket Knife With Performance Built To Last
Deejo custom knives go a step above the well-known industry players like Benchmade, Spyderco, Kershaw, Pivot, and Buck by offering a full range of blade and handle customization options, to make your knife 100% you.

An Everyday Steel Blade

Even with all the available customization options, there's no compromise on the Deejo knife's performance and ability to take on everyday tasks. These folding knives are built using Z40C13 Stainless Steels (Hardness: 54-56 HRC). This steel blade gives these knives the perfect razor-sharp edge and allows the overall design to remain as small and lightweight as possible.
Stainless steels like Z40C13 are excellent for custom knives and cutlery. This steel's properties include good edge retention, corrosion resistance, wear resistance (due to its carbon and vanadium composition), sharpness, and toughness.
Another little reminder is that these steels are safe when in contact with food. So, do not hesitate to enjoy meals with your Deejo blade!
Frame and Lock Built To Last

While the blade tattoos are a big selling point for Deejo knives, we can't forget to talk about this knife's actual frame, design, and everything that enhances its smooth performance.

Deejo knives are built with a frame made of Z40C13 stainless steel. This frame has built-in a belt clip (also known as a pocket clip) for the .95 oz and 1.3 oz models. This clip is handy for keeping the knife secure to a shirt pocket or to the interior of bags and/or briefcases.

To further ensure safe carrying, these pocket knives have been designed with an excellent liner lock mechanism that makes opening and closing the knife easy. To carry your knife closed, press 'push', and the knife's locking mechanism will release and allow the blade to fold towards the handle, into a secured and locked position. The stiffness of this locking blade also allows you to manipulate and pivot the knife at various angles, to take full advantage of its sharp cutting edge.

Handle Materials, Only From the Best

Sturdy frames, good lock mechanisms, and quality steels are all vital to creating a high-performing knife. But what should not be forgotten is the comfort and grip one has while carrying a knife- except not all knives take this into account.

While the Deejo knife design does not include a thumb hole, you can still be sure that your hand has a firm hold of the knife's handle due to the extra layer of materials on the handle.
Guests have the option to choose these handle materials to their liking- and it's not just for any reason! Choose from different wood types like Olive, Ebony, Juniper, Coral, and Blue Beech, or pick from their range of composite handles like Carbon Fiber, Camo, and Turtle Shells. For those interested in creating an even more high-end knife, you can pick from Deejo's gold-gilded options in yellow gold, white gold, and pink gold.
Once the handle material is chosen, it is then screwed onto the stainless steel handle frame. And this is important as it adds an extra layer of material that your hand can grip, allowing for more precise and secure cutting, chopping, and slicing.

Let's Compare!

While other knife manufacturers may offer a variety of blade steels (carbon and other grades of stainless steel) and features like assisted opening, flipper openings, and thumbholes, remember that Deejos have been designed the way they are for a reason.

You can't compare Deejo to others! While they guarantee that their knives have the strength and performance needed to tackle everyday tasks, they put just as much emphasis on their knives' design. Finding the best Deejo model for your needs is important.

So let's compare Deejo's two top-selling knives. The 1.3 oz (37g) model measures 4.33 inches closed, and 7.87 inches open, with a 420 stainless steel blade length of 3.74 inches. This is one of Deejo's biggest folding models, excellent for tackling bigger tasks with a good firm grip.
The .95 oz (27g) pocket knife model measures 3.54 inches closed, 6.69 inches open, with a blade length of 3.15 inches. The .95 oz blades are lightweight, perfect for cutting a steak or peeling an apple. This blade is offered at a lower price point, but is guaranteed to get the job done well!

How to take care of your pocket knife?

Taking good care of your pocket knife is easy and requires low maintenance. You should always try to store your knife in a clean and dry place, and remember to never put your Deejo in the dishwasher.

Deejo also sells accessories and additional items to make sure that your blade stays in the best condition. So be sure to check out their knife sharpener, leather sheaths, and collectors case.

Deejo's knife sharpener (also available on Amazon) is fixed at a 40° angle and has a double-blade tungsten carbide face with a black aluminum handle and thumb hole for secure sharpening. So if your Deejo or any of your knives for a matter of fact are in need of sharpening, consider this item!

And remember, if you do have any trouble with your knife, each Deejo comes with a lifetime warranty. Screws and metal parts like the handle, blade, and clip are guaranteed for life. While the plate that adorns the knife's handle is guaranteed against manufacturing defects for a period of 2 years.

5- What is a pocket knife meant for?
When thinking about your next everyday carry knife purchase, besides considering one that is personalizable, small, and has a comfortable grip in hand, be sure to also think about what you'll actually need or want to use the knife for, your list may be long!

Deejo knives are capable of tackling your everyday tasks in style:

-If you tend to spend a lot of time in the kitchen or even preparing food on the go, Deejos are perfect to cut a steak and to spread or chop vegetables and fruit.
- Always in the great outdoors? Grab your Deejo blade to help cut rope or twine, use its sharp edge to make kindling to start a fire, and cut fishing lines or net.
- For simple tasks around the house like opening a package, letter, or cans, cutting loose threads, or even opening a wine bottle.

We've got to hand it to Deejo pocket knives for their top-notch cutting knives. So don't wait any longer to pick and compare from their range of excellent pocket knives to create your signature carry!

Are pocket knives legal?

We thought it was also important to add an extra excerpt on the legality of pocket knives in the United States and where you can carry them. In the US, each state has its own knife laws and even local municipalities have their own rules and regulations.
Without getting into details, what is generally allowed are knives intended for utility use only, that are folding, and that have a blade length of less than 4 inches. Of course, there are specific areas like schools, government buildings, and planes where you may not carry a knife. Be sure to check and compare your state and local government's websites for more information.
BUY

NOW