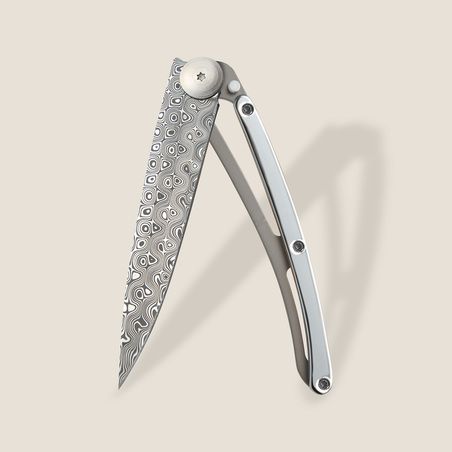 Deejo Damascus 37g
White Gold Gilded
Witness of ancestral knowledge, this Deejo knife in Damascus steel is undeniably one of the most exceptional models of our collections. While connoisseurs will delight in this magnificent piece of cutlery, novices will discover, with all the elegance characteristic of Deejo, the contentment of an incommensurable cutting edge.
Ultralight knife in stainless Damascus steel, 'DS93X' of 'Damasteel' (registered trademark). Blade with 'liner lock' safety. Belt clip. Leather sheath included. White gold Zamac gilded handle (Palladium).
SPECIFICATIONS
Material : 'DS93X' of 'Damasteel' (registered trademark) et Z40C13
Weight : 50 grams (1.76 oz)
Closed length : 11 cm (4.33")
Open length : 20,5 cm (7.87")
Blade length : 9,5 cm (3.74")
Thickness : 0,9 cm (0.35")
DETAILS
256 layer Damascus steel composed of 16 alternating layers of carbon steel (soft and sharp) and stainless steel (robust and almost impervious to oxidation). This steel is folded on itself 16 times during the forging process. An acid treatment then reveals the characteristic lines and patterns of Damascus steel.

The handle is adorned with a plate of gilded Zamac in fine gold (more precisely in this case, palladium), dazzling white. Sparkling with a thousand silver reflections, this plate is reminiscent of racing car chrome or a precious jewel and contrasts wonderfully with the matte nuances of the Damascus steel. Gold is an unalterable, dense and noble material that Deejo celebrates here mainly for the admiration it inspires.

Ultimate refinement, a fine anodized aluminium plate in red is inset between the raw material of steel and the sparkling reflections of the plate in white gold to further enhance this exceptional piece.
ESSENTIAL
Damascus steel is to cutlery what diamonds are to metalsmiths: rare, exquisite, with extraordinary properties (in the first sense of the word), Damascus steel makes your Deejo knife an exceptional piece that inspires all desires. Deejo uses one of the finest Damascus steels available in cutlery, forged in Sweden by the company Damasteel in the purest respect for tradition. This highly corrosion-resistant Damascus steel, in addition to an incredible and durable cutting property, is a true feast for the eyes: forged from 2 stainless steels, one light and the other dark, each blade reveals arabesques of grey in geometric patterns that play with the light in a breath-taking tone on tone. Each piece is unique, subtly revealing the precise gestures and talents of the smith.
CARE GUIDE
Prestigious and particularly resilient, Damascus is one of the most durable steel alloys in the world, provided you follow a few simple instructions.

First, like any other metal blade, Damascus is susceptible to oxidation and rust. Rust is the result of oxidation of iron from prolonged exposure to humidity. Particularly rich in carbon, Damascus steel is more susceptible to rust. It is therefore essential to avoid prolonged contact with water and to dry your blade well after each use. A fortiori, dishwasher cleaning should be avoided in all circumstances or risk irreparably damaging your knife.

It is also important to avoid abrasive materials and strong chemicals, which could damage the Damascus pattern that makes these blades beautiful and unique.

For sharpening, a Damascus steel blade is conventionally sharpened using a whet stone, a sharpening steel or other suitable sharpener. However, care should be taken not to damage the characteristic pattern of the blade during this operation. Also, the steel's hardness may require more time to sharpen the blade than a regular blade. We therefore recommend a precise procedure (respecting the 40-degree angle of the edge of the blade), firm and repeated strokes over a period a little longer than usual.

Concerning the fine gold gilded handle, it oxidizes and naturally acquires a patina over time. Simply polish it with a microfibre cloth (provided) or with a pre-treated chamois (available in pharmacies and jewellery stores) to restore its original shine.
SHIPPING AND RETURNS
Orders placed before noon (Greenwich time) are dispatched the same day. Delivery times are 48H/72H in Europe and 2 to 4 days in the rest of the world.

Satisfied or refunded: if your product is a catalogue product, you have 14 days to return it to us and obtain a refund.

SPECIFIC CASE OF CUSTOM ORDERS: all our knives can be personalized via our configurator.

In accordance with the current legislation in force, products made to measure are not eligible for return or exchange.