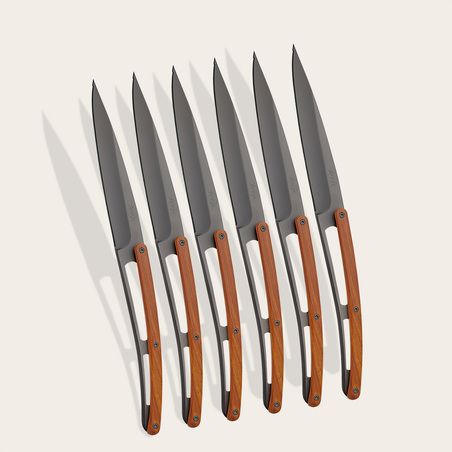 6 Deejo steak knives Serrated
Coral wood
A set of 6 steak knives under the signature of Deejo, combining a formidable micro-serrated blade with the bewitching charm of the warm colours of coral wood.
Set of six table knives with a fixed serrated blade (non-folding) in 2CR14 stainless steel with an anthracite grey coating. Coral Wood Handle
SPECIFICATIONS
(1 Knife)
Material : 2CR14
Weight : 60 grams (2 oz)
Length : 23 cm (9.55'')
Thickness : 1.5 cm (0,5'')
DETAILS
These Deejo steak knives are adorned with a solid coral wood (or padauk) plate. This species of wood has long been used in cutlery for its precious red/amber reflections (hence its name), its robustness and its excellent resistance to humidity. Here it wonderfully underscores the elegance of our Deejo knives.

Obtained by fixing grey titanium onto a stainless steel base, this finish has a double advantage. First, it reinforces surface resistance to shocks and scratches, and second, it renders sublime the pure lines of your knife displaying a temperance pushed to its peak. A discreet finish par excellence, the steel acquires a slight patina over the years to further enhance these very beautiful pieces of cutlery.
Presented here micro-serrated along the entire length of the blade, this particularly effective edge has the advantage of requiring no maintenance and makes it easier to cut certain foods (tomatoes, bread, thick meat, etc.).
ESSENTIAL
A perfect alliance of tradition and modernity, the elegant and refined lines of these steak knives are marvellously adorned with the noble warmth of wood to reveal the infinite grace of these formidable fine blades.

Deejo knives go very well together with silver forks and any elegant table service.
CARE GUIDE
Your Deejo knife cuts the most delicate raw or cooked foods with formidable efficacy and rare elegance.

Magic of the serrated blade, your knives do not require any special maintenance and always remain perfectly sharp.

SPECIFIC PRECAUTIONS FOR CLEANING: adorned with a wooden handle, Deejo knives are not dishwasher safe. Hand-wash your Deejo using the soft side of a damp sponge or cloth, completely avoiding the abrasive side of the sponge or you may risk scratching the blade.
SHIPPING AND RETURNS
Orders placed before noon (Greenwich time) are dispatched the same day. Delivery times are 48H/72H in Europe and 2 to 4 days in the rest of the world.

Satisfied or refunded: if your product is a catalogue product, you have 14 days to return it to us and obtain a refund.

SPECIFIC CASE OF CUSTOM ORDERS: all our knives can be personalized via our configurator.

In accordance with the current legislation in force, products made to measure are not eligible for return or exchange.