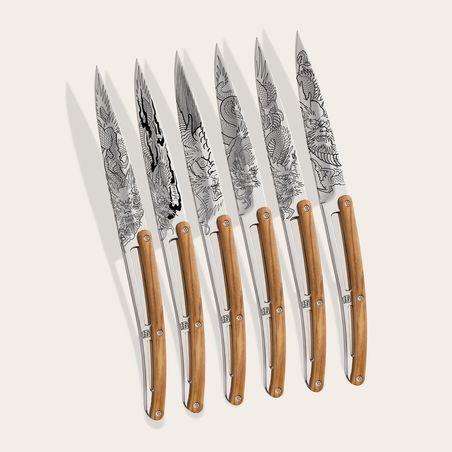 6 Deejo Steak knives
Olive wood / Tin-Tin "The Dragon"
Tin-Tin is one who knew well how to ride the democratization of this primitive art now become popular, and 'the bear of Pigalle', 'the tenor of the epidermis', remains no less faithful to the requirement of perfection. The proof is in the images with this superb dragon that Tin-Tin delights to offer for Deejo on the blades of a set of 6 steak knives, images that play magnificently within the precise framing of the medium in richness and detail.
Set of six table knives with a fixed blade (non-folding) in 2CR14 stainless steel with a mirror finish. Olive wood handle.
SPECIFICATIONS
(1 Knife)
Material : 2CR14
Weight : 60 grams (2 oz)
Length : 23 cm (9.55'')
Thickness : 1.5 cm (0,5'')
DETAILS
The olive wood that adorns the handle of these Deejo knives is known for its robustness and antibacterial qualities. It is a great classic of cutlery. Widely acclaimed by enthusiasts for the beauty of its natural grain, each piece is unique depending on the tree from which it is fashioned, illuminating your Deejo with superb arabesques of beige, without fear of humidity or time.

Obtained through successive 'polishings' of the stainless steel of your Deejo knives, this glistening finish is a real invitation to contemplate the effects of light on the polished reliefs in steel of these magnificent pieces of cutlery. Like precious jewels, your Deejos shine with a thousand sparkles and inspire genuine admiration.
ESSENTIAL
Famous for the exceptional quality of his creations and having raised tattooing to the rank of a major art (in particular through the «Planétarium» which he organizes each year in Paris) in May 2023 Tin-Tin will inaugurate with Deejo an exclusive collection that for six months will illuminate the blades of the most tattooed of knives.
CARE GUIDE
Your Deejo knife cuts the most delicate raw or cooked foods with formidable efficacy and rare elegance.

Like any knife, the blade edge of your Deejo knife will wear with use. To maintain a perfect edge, it is advisable to sharpen the blade of your Deejo regularly. We use 2CR14 type stainless steel, which is perfectly suited for food use. Your Deejo knife can be sharpened using a whet stone, sharpening steel or sharpening set. Be careful not to damage the aesthetics of the blade during this operation.

SPECIFIC PRECAUTIONS FOR CLEANING: adorned with a wooden handle, Deejo knives are not dishwasher safe. Hand-wash your Deejo using the soft side of a damp sponge or cloth, completely avoiding the abrasive side of the sponge or you may risk scratching the blade.
SHIPPING AND RETURNS
Orders placed before noon (Greenwich time) are dispatched the same day. Delivery times are 48H/72H in Europe and 2 to 4 days in the rest of the world.

Satisfied or refunded: if your product is a catalogue product, you have 14 days to return it to us and obtain a refund.

SPECIFIC CASE OF CUSTOM ORDERS: all our knives can be personalized via our configurator.

In accordance with the current legislation in force, products made to measure are not eligible for return or exchange.