Deejo welcomes Filip Leu, the "dragon tattoo master."
01/11/2023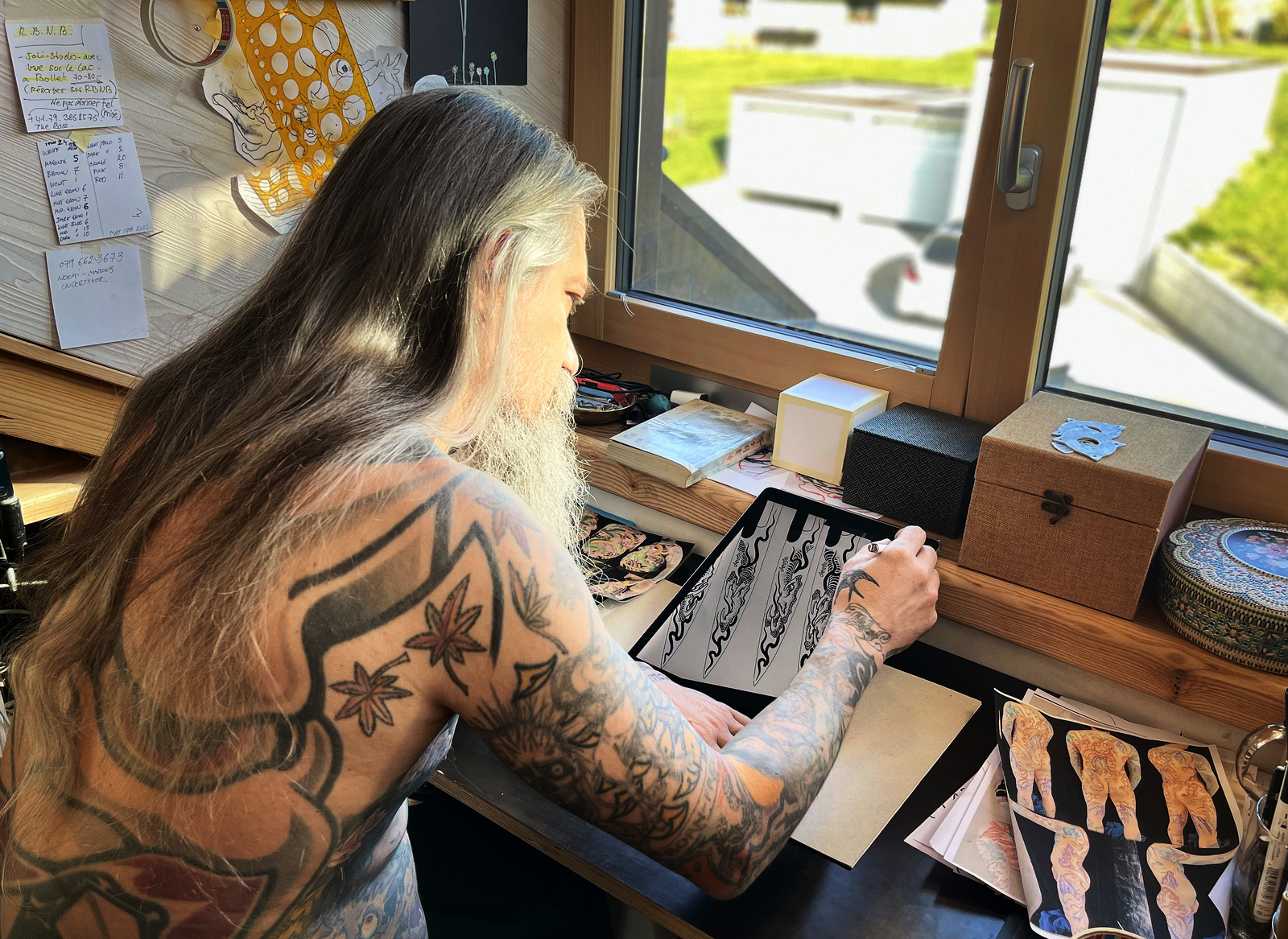 Filip Leu is a Swiss tattoo artist whose exceptional talent is globally recognized in the field of tattoo art. This passionate artist has devoted a significant portion of his career to exploring the fascinating world of dragons, specializing in the intricate representation of their claws, as faithfully depicted in his book "Dragon Claws," a work that features no less than 2000 dragon claws !
His work, characterized by artistic precision, a deep understanding of dragon mythology, and limitless creativity, has been an unparalleled source of inspiration for tattoo artists worldwide.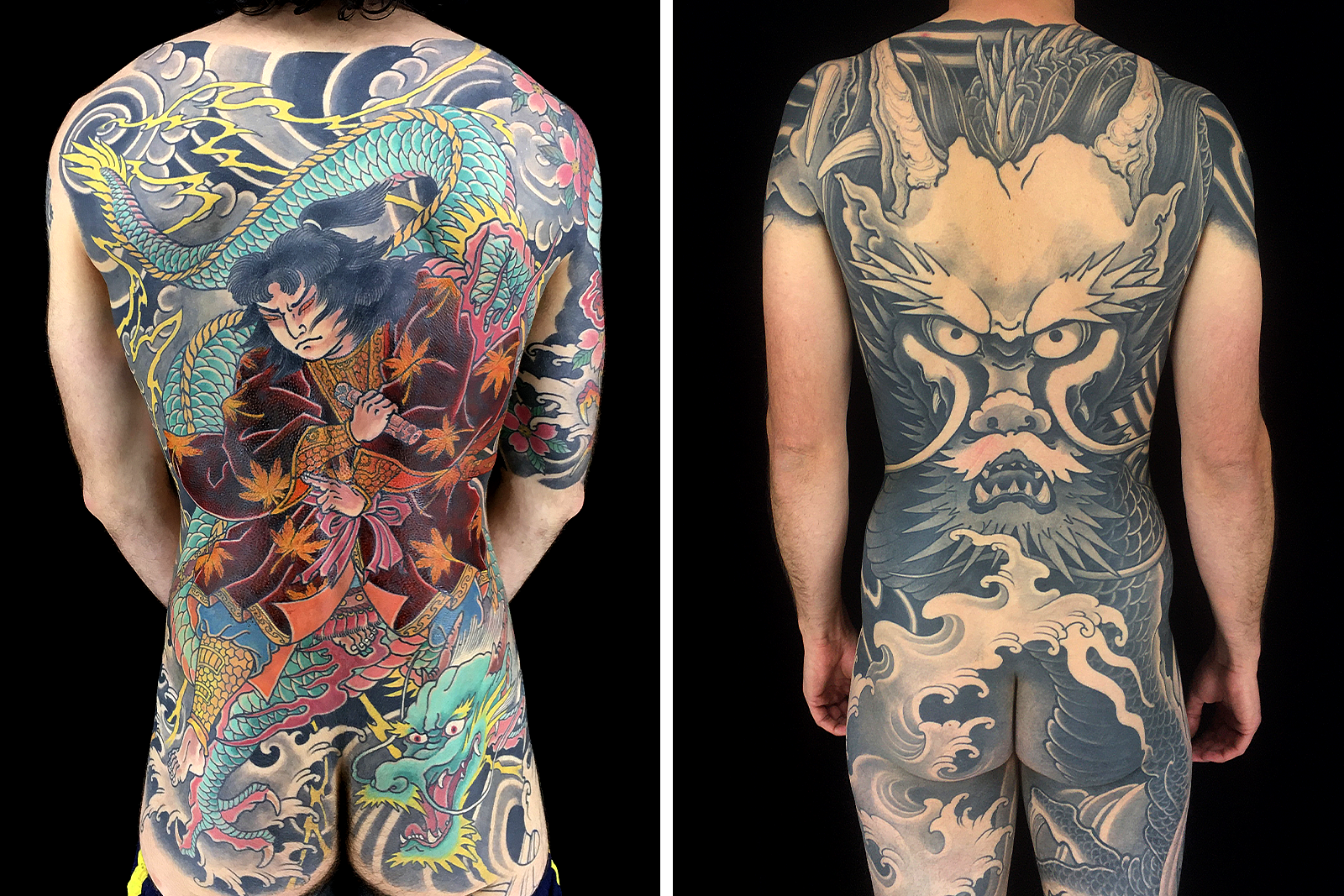 Filip Leu's collaboration with Deejo is a tremendous honor he extends to the French cutlery brand and its fans. The details he brings to each design are breathtaking, whether it's admiring delicately drawn scales, formidable claws with 2, 3, 4, 5, or even 6 fingers, or the textures and nuances that breathe life into these fantastical creatures.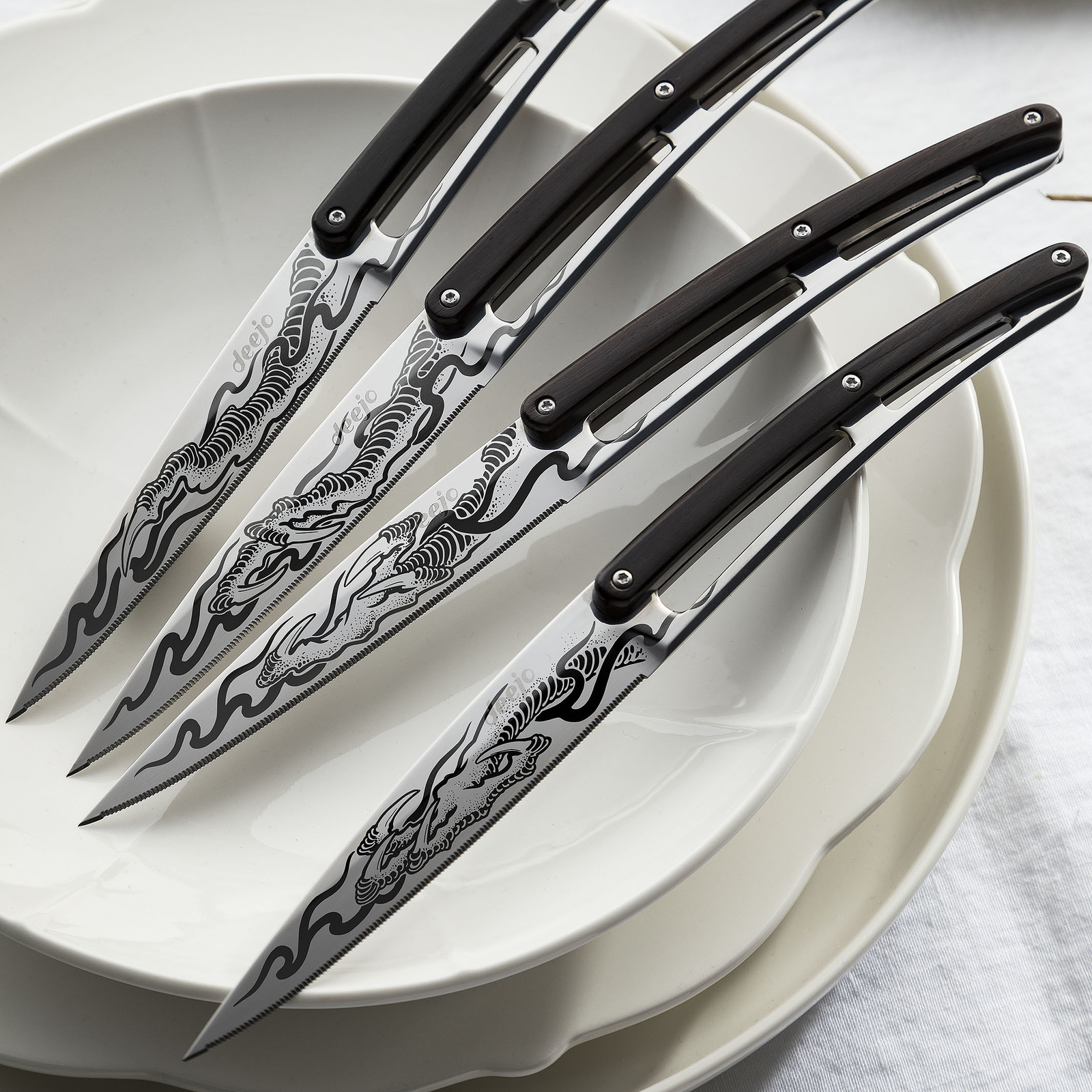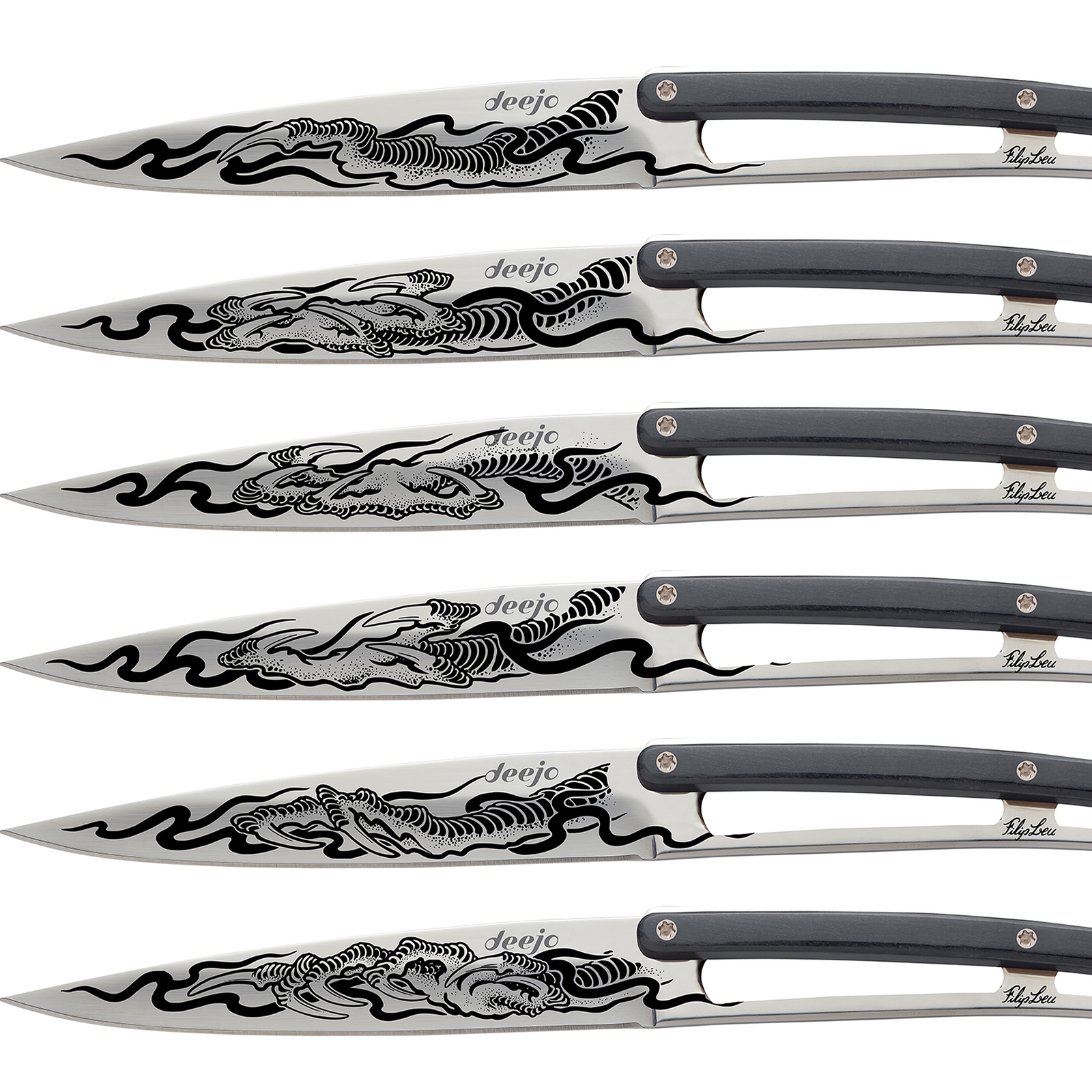 Filip Leu has also provided Deejo with the original illustration of a dragon as terrifying as it is majestic, whose design perfectly fits the shape of the Deejo's blades. Available in limited edition, this tattoo complements the collection of 12 of the world's top tattoo artists brought together by Deejo under the auspices of « Tatouages Magazine » since March 2023.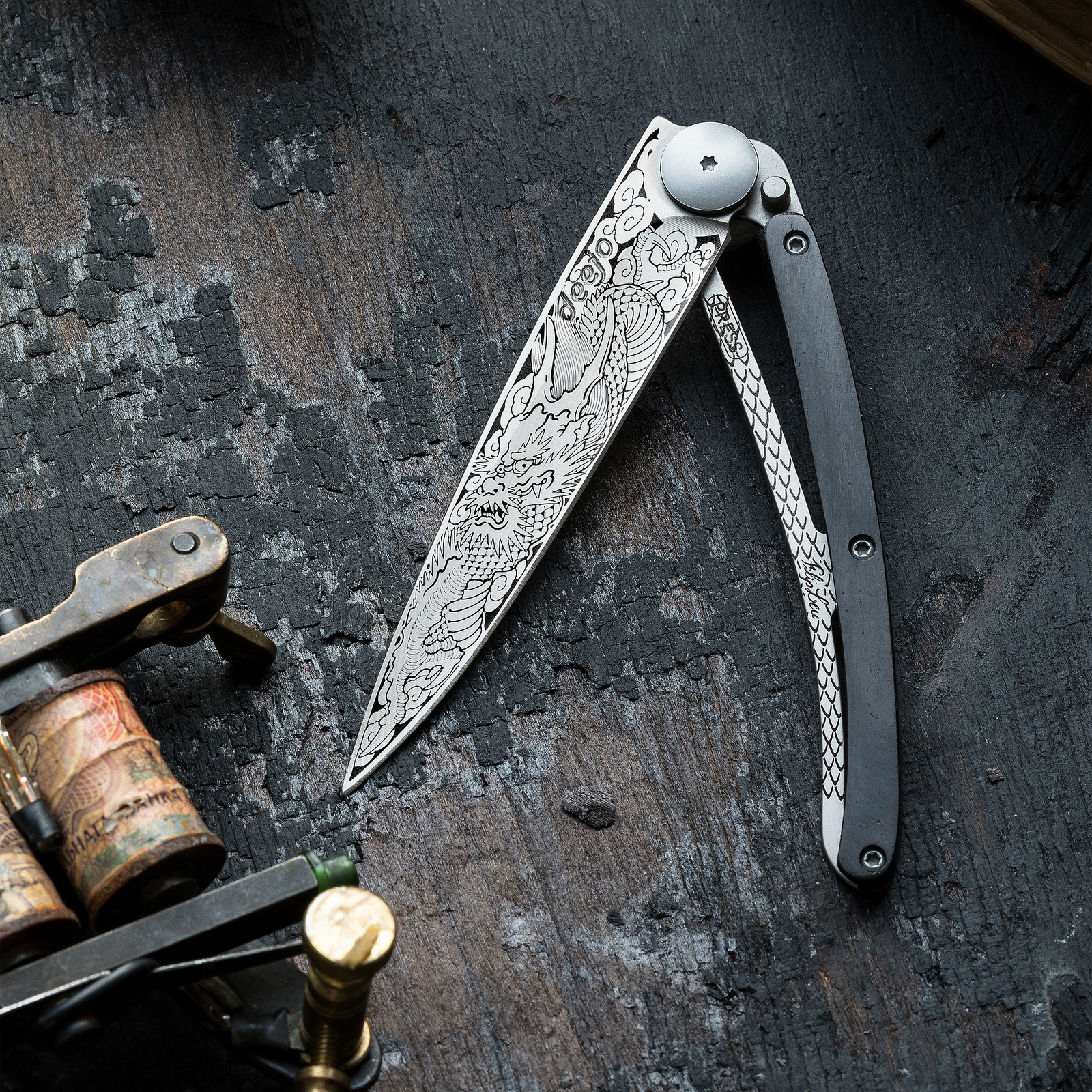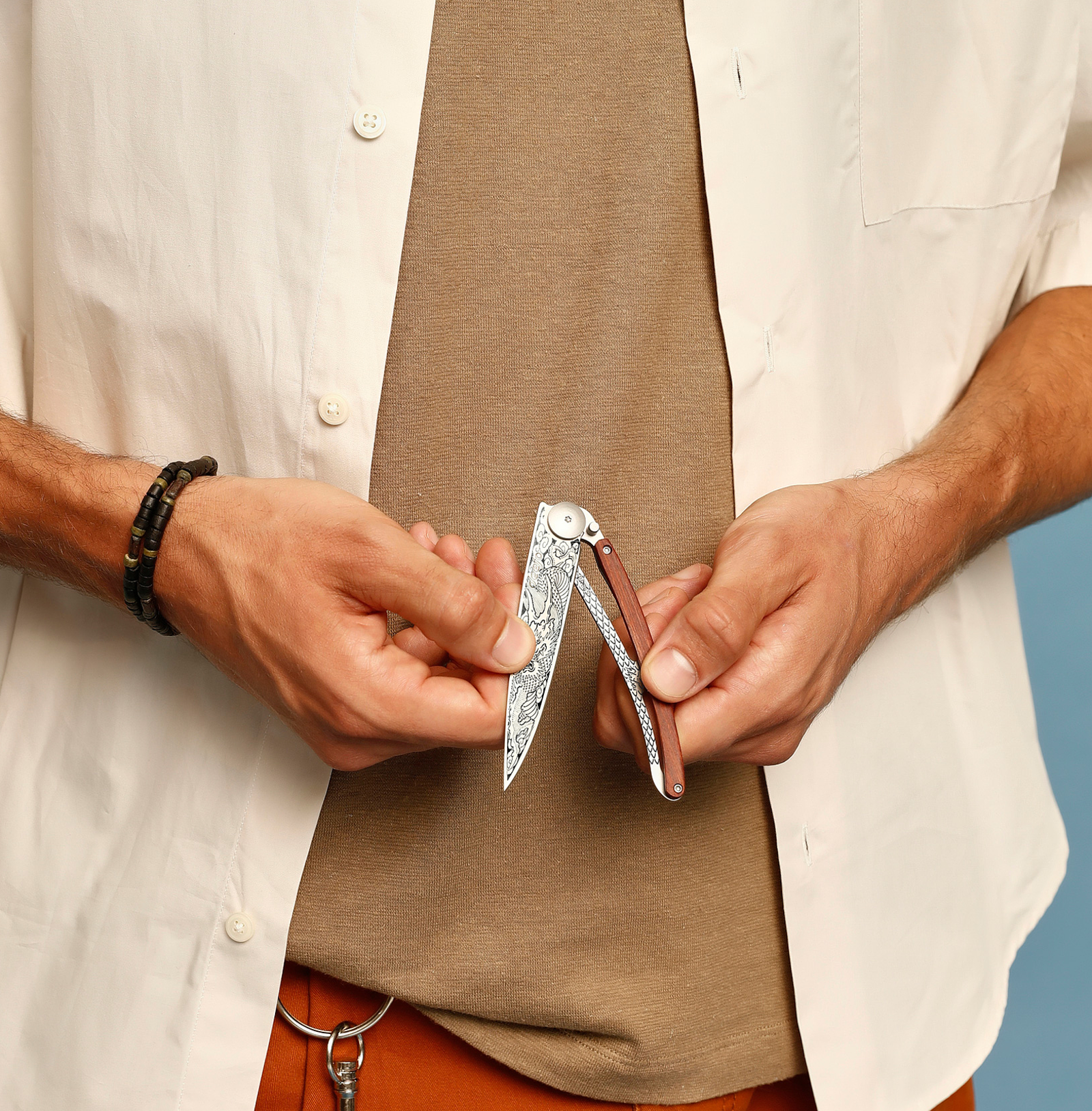 Filip Leu's passionate work is a vibrant tribute to the timeless fascination that dragons hold over our collective imagination. His undeniable talent and exceptional contribution, which make him a true legend in his field, provide a unique opportunity for admirers of his work and Deejo knife collectors to enhance their collections with memorable works of art.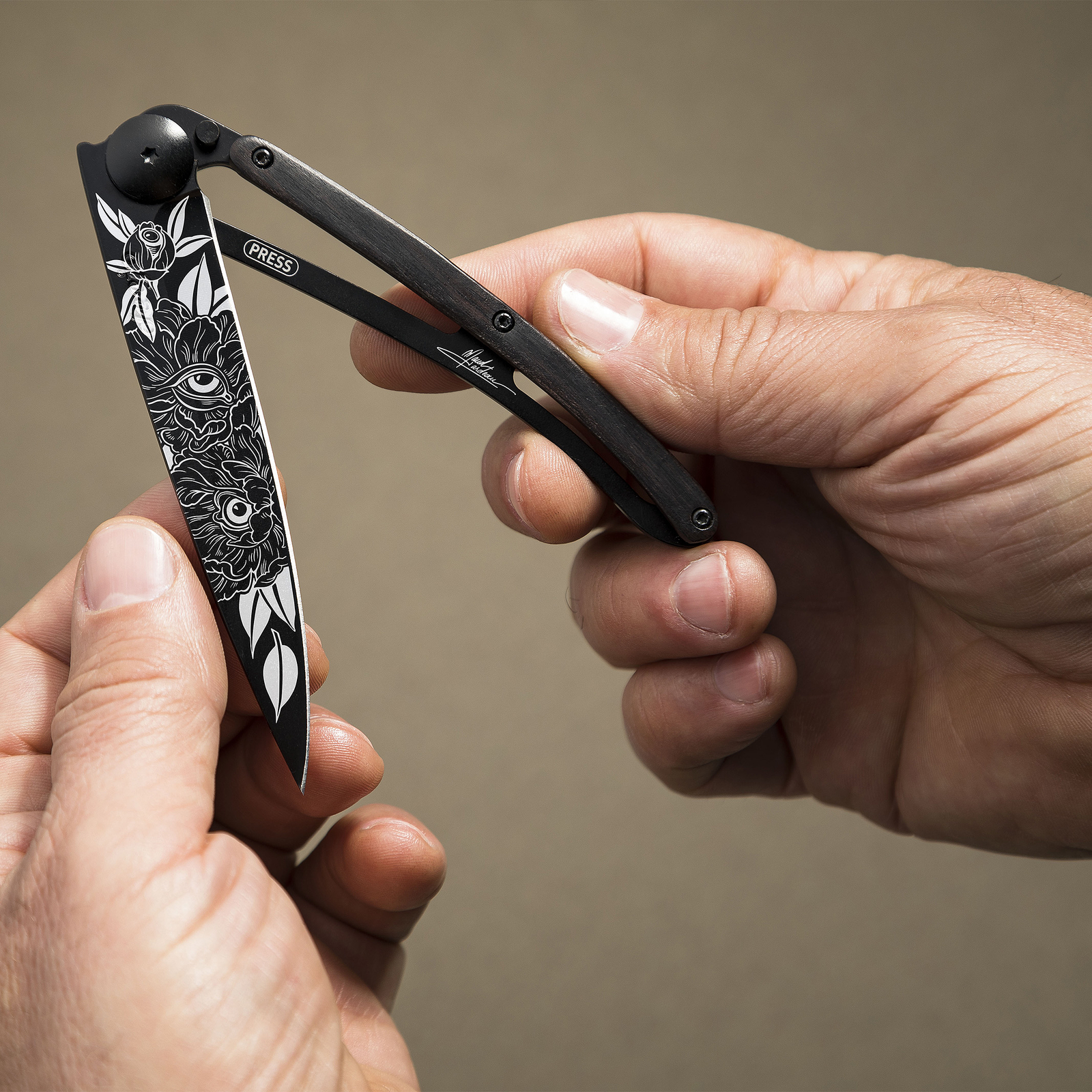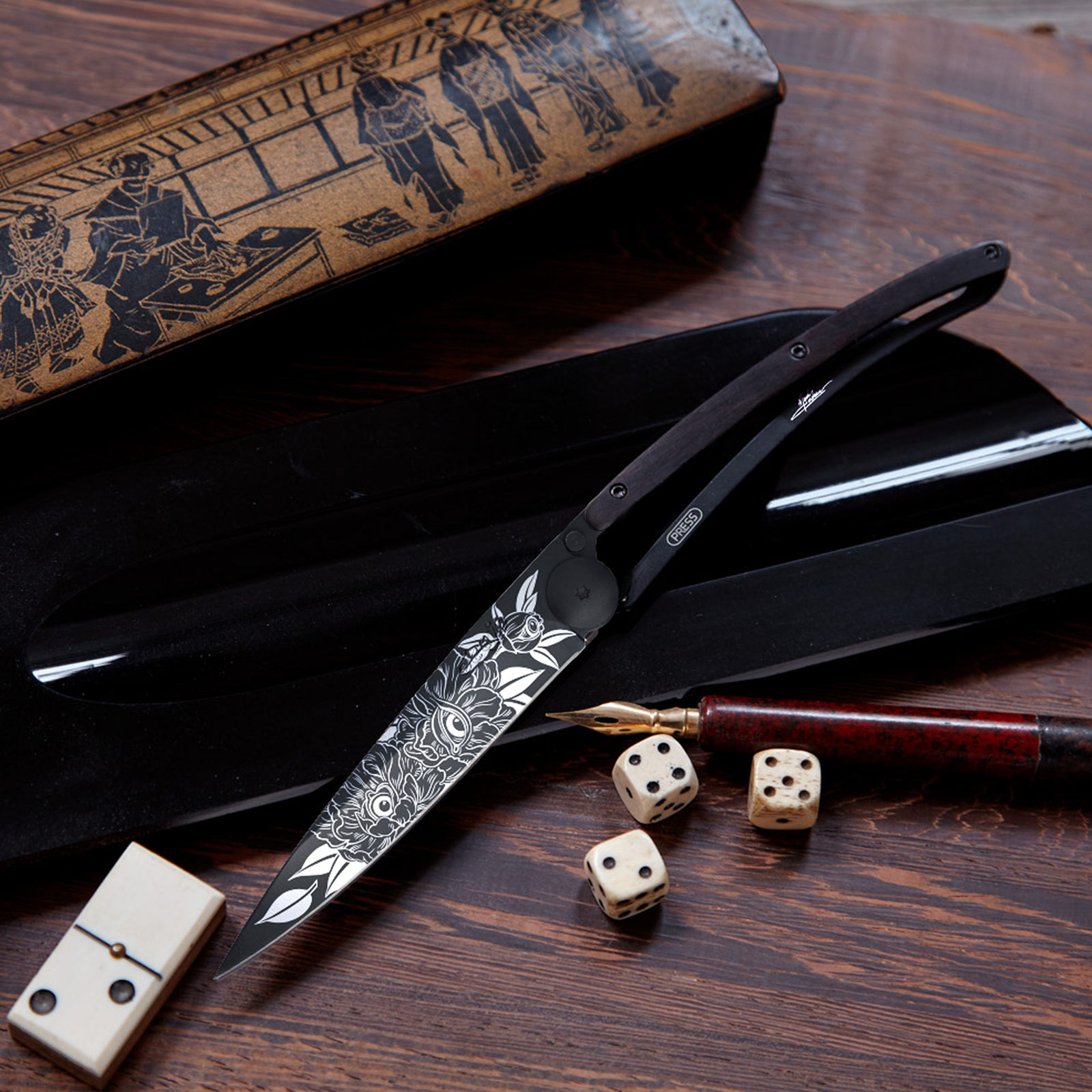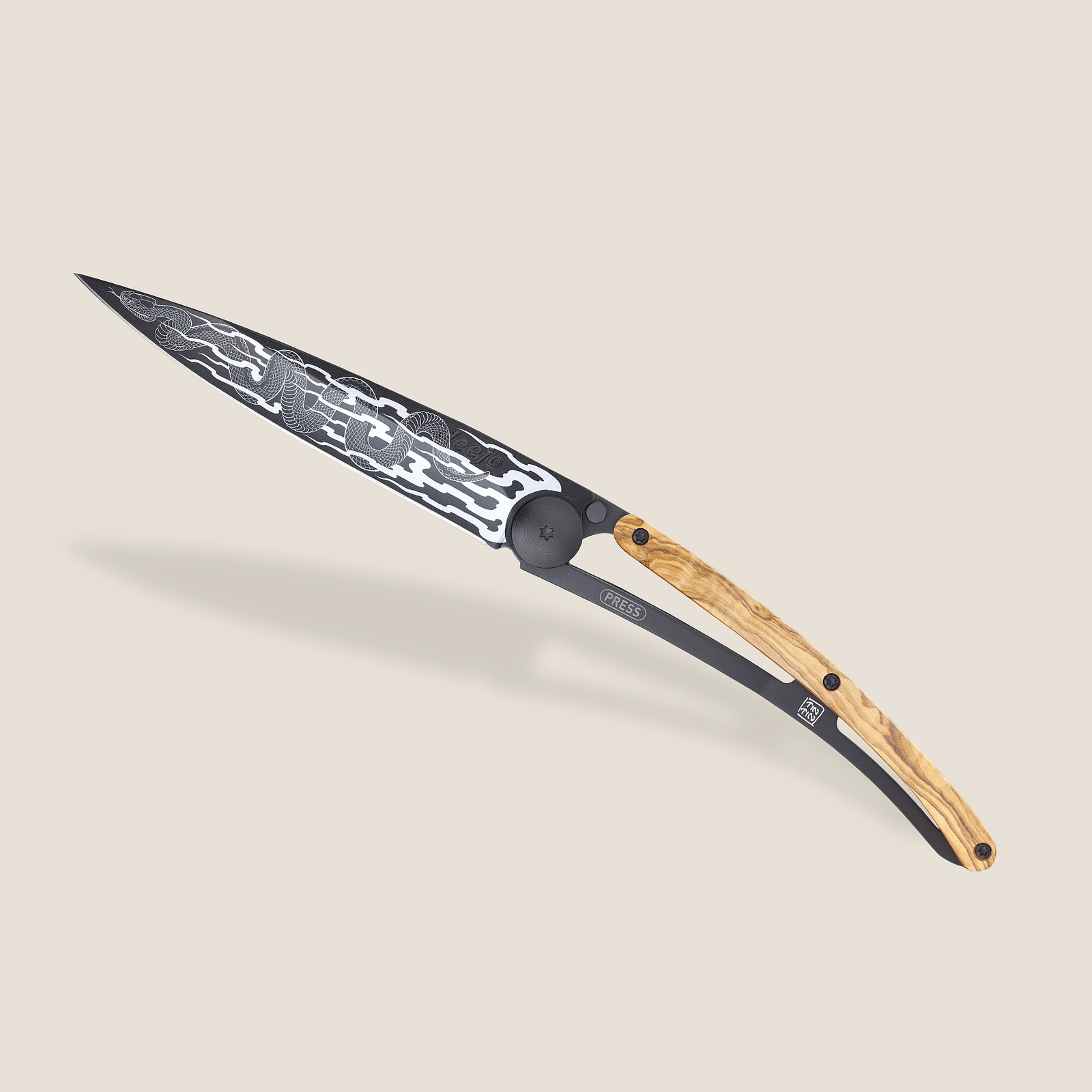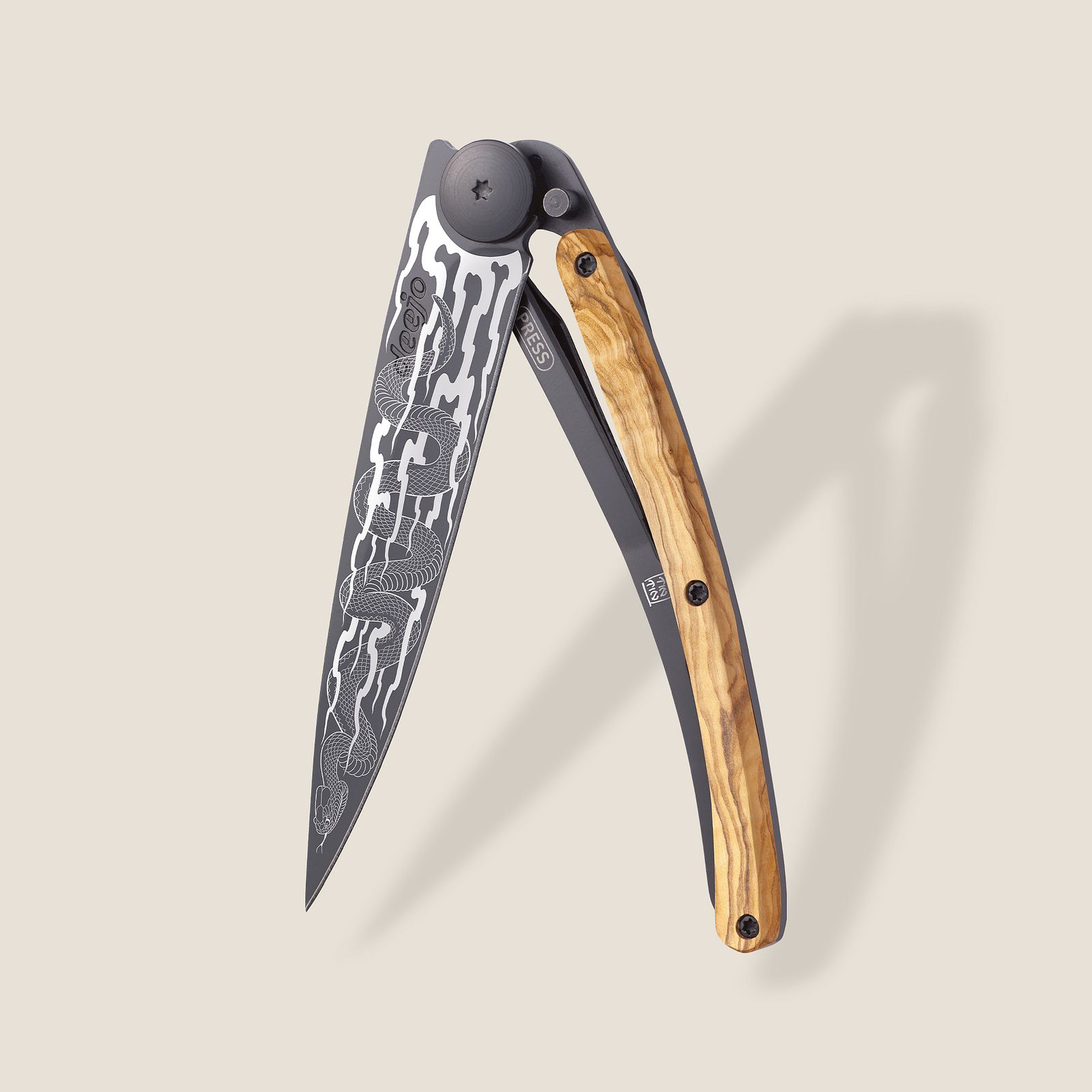 The little story of tattooing
For a long time on the periphery of Western culture, tattooing is no longer the sole purview of the sailors and the sacred. Practiced throughout time and all over the world, the art of tattooing (from the Polynesian Tatau) dates back to 1300 BCE, in which colouring the skin marked the important stages of life.
In the Middle Ages and until the end of the 19th century, tattooing, considered a pagan practice, was banned by the Church everywhere in Europe. It then became the tradition of mariners as well as prisoners, for the latter in particular in Russia where inmates did not hesitate
The tattoo in the Western world, long reserved for those at society's margins, including gangs and bad boys, established itself in the 1980s in pop culture, promoted by rock stars, punk and rap music.

This collaboration could not have happened without Tatouages Magazine and its two founders, friends and partners, Jérôme Pierrat and Mikael de Poissy, who proposed to Deejo to bring together over a period of two years twelve of the world's most famous tattoo artists for an exclusive collection. Every two months, this collection showcases the exceptional talent of these artists on Deejo knife blades.
After Tin-Tin, Maud Dardeau, and Jondix, Deejo and Tatouages Magazine invite you to visit their respective websites and check out the latest issue of the magazine to discover the behind-the-scenes of this stunning collection imagined by Philippe Leu.