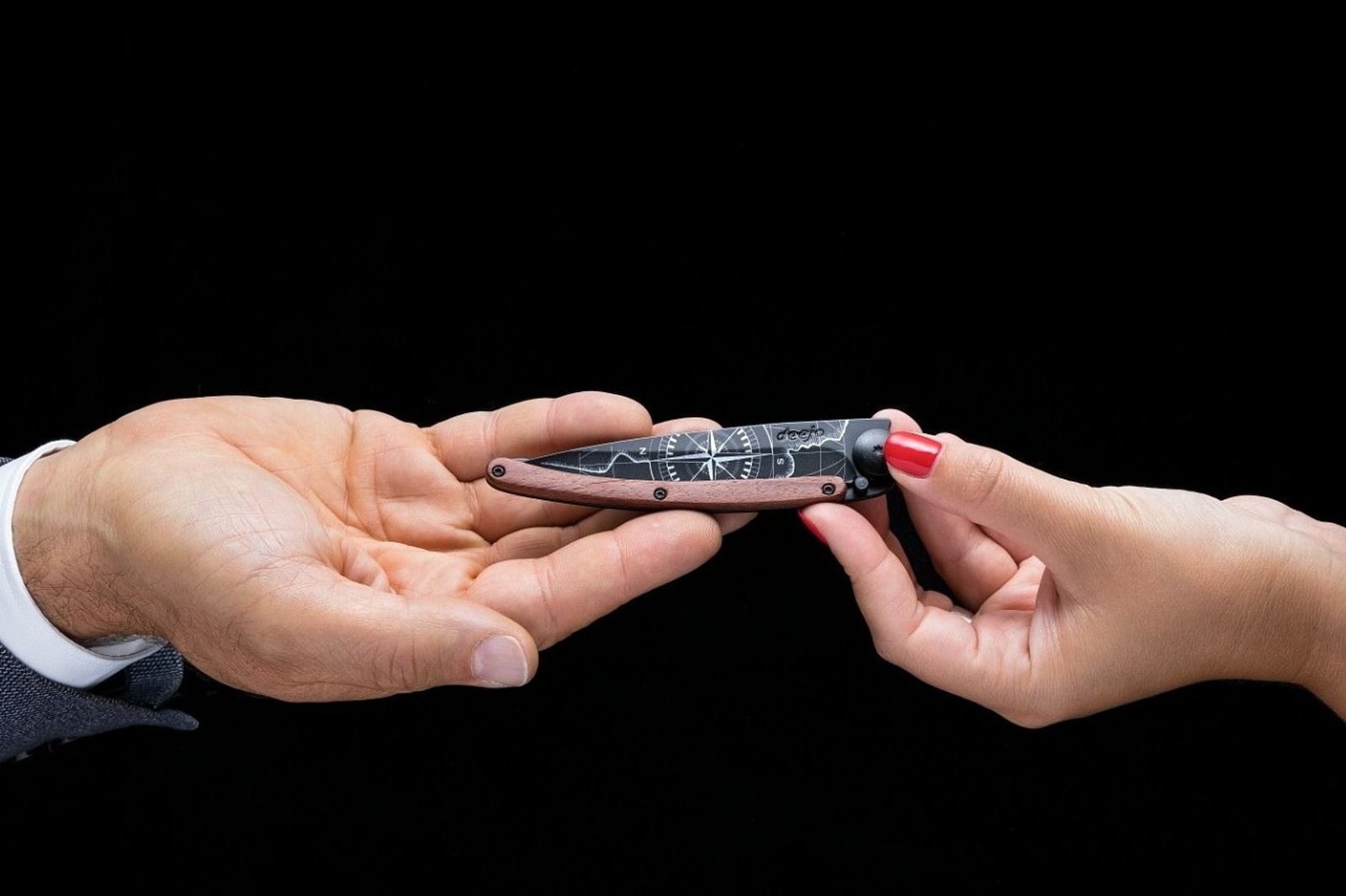 PETITES LUXURES IMAGINES 3 BOX DUOS FOR A 'HAPPY VALENTINE'S DAY'
14/02/2021
You can't miss Petites Luxures, the illustrator known for his 'intimate designs' that excite his 1.3 million followers daily. Far from immune to his charms, Deejo gave him carte blanche to tattoo its blades with his mischievous pen stroke. The illustrator reveals all his secrets, along with his inspirations and other projects, in this exclusive interview.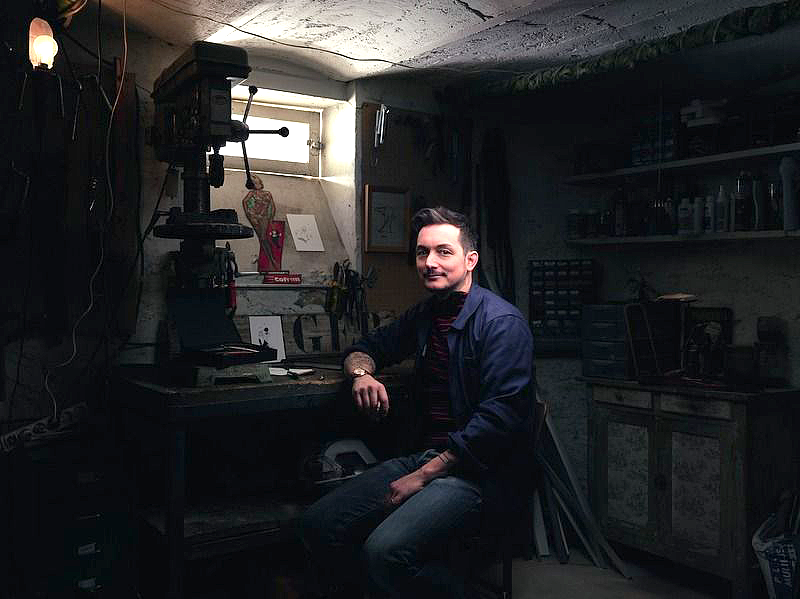 Photos: Roman Jehanno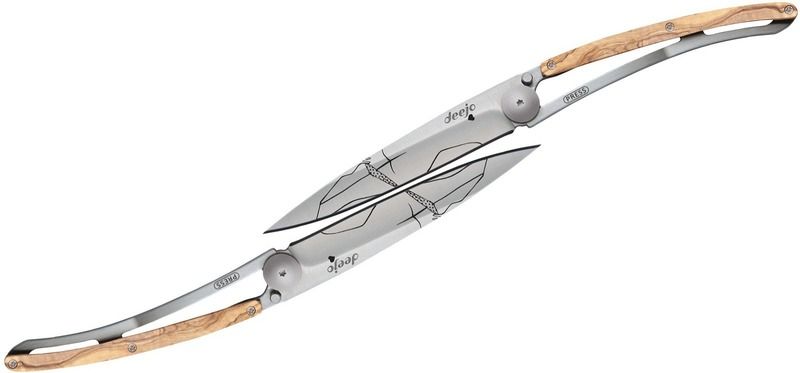 her & her
Deejo - Hello, would you introduce yourself and tell us a bit more about who you are and what you do?
Simon Franckart / Petites Luxures - To put it simply, let's say that I am a trained graphic designer turned illustrator/artist (although I don't really like the term 'artist'…). I have been drawing backsides for 6 years and professionally for 2 years. I try to bring elegance and spirit (spirit is important…) into eroticism by playing with the lines of my drawings and words.
Why backsides?

Because it is an inexhaustible subject! If we look more closely, eroticism is a filter that allows us to regard life with a nice sideways step, I find.
Deejo and Petites Luxures have been long-time friends and have already collaborated several times on different projects over the past few years. Do you remember your first contact with the Deejo brand?

It was at the BETC agency where I was working, at the time as artistic director. My supervisor had started me working on the logo. I closed the vowels of the Deejo logo, which had been open in its embryonic version. Afterwards, when the agency was working on the realization of the brand's 3D configurator, I was asked to design the first tattoos. In particular, I was the one who designed the tree, the anchor, the wing, the high seas and also the typographic and artistic play around the set of words 'A cut above'. I had also designed a leg dressed in a fishnet stocking; the beginnings of Petites Luxures? I remember at the agency we were fighting for the right to draw a Deejo tattoo. It is rather rare in an agency to have such creative freedom. In general, each work is framed by a very precise brief. Here, we could really give free rein to our personal sensibilities.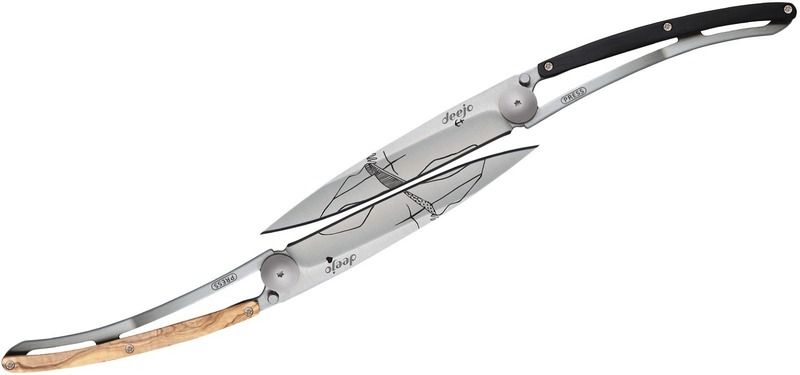 her & him
We know from reliable sources that you like objects that have 'a soul'. You collect vinyl records, you like old cameras and live in Meaux in a house richly decorated with unique objects. How important are objects in your life in general and what place does the pocket knife hold for you, in particular?
It's true (laughs). For me, objects have to have a past or you have to create a story for them when you purchase them. I have a special relationship with objects, sometimes contradictory. On the one hand, I am very attached to them, I like the objects that surround me; on the other I have trouble with the consumerism of our world today. Imagine, I haven't bought any new clothes for almost 2 years! By contrast, I fell for this beautiful old blade at a garage sale a few weeks ago… knives? They are an object that is part of my daily life, like my pen or my watch. These are the objects you should always have with you. I like that they acquire a patina over time, that they age with me. An anecdote about pocket knives: my father is the son of a farmer. He always told me that a man should have a knife in his pocket. Yet, he was a literature professor! Likewise, who is it who always has a knife in his pocket when it's needed and no one else has one? That's Simon!
You are presenting a new project for Deejo around a Duo box that allows numerous combinations…can you tell us more?

This is the 3rd time we've worked together directly (Ed., Petites Luxures illustrated in video the different possibilities with the tattoo engraving kit to engrave your own Deejo - see below - and Deejo published an exclusive limited edition 'Petites Luxures' tattoo in December 2018/January 2019). I like playful, interactive objects, like the book Le Diascope that I recently published with Éditions Hoebeke. The idea of ​​designing a tattoo that tells a story across the two blades of this Duo box was interesting at first go. I set myself the constraint to create two designs that could work in all possible combinations: A/B, A/A and B/B. It's an exercise in style on symmetry which turned out to be amusing in its implementation...and which in this case allows the possibility to be more 'inclusive', as we say. I am very satisfied with the result of these 3 boxes "Her and Him", "Her and Her" and "Him and Him".

As you mentioned, you had previously illustrated for Deejo different possibilities offered by the engraving kit to tattoo your own Deejo knife. What memories of this collaboration have you taken with you and what use have you made of this kit?

I still use the engraver a lot! To engrave Deejos, of course, but also many other things! Just recently with my daughter, a wood box for a 'Totoro' birthday party she was invited to. It's cool to have been one of the first to be able to use this kit. This brings us back to my attachment to 'living' objects... The 'do-it-yourself' side which invites others to be the protagonists of their objects seems very interesting to me. So we hold on to it more. I was happy to put my design there and I remain curious to see what other artists or lovers of your knives are doing with it. I'm sure there are some beautiful realizations out there.

In 2019 you published with Éditions Hoebeke a magnificent collection of drawings based on testimonials from your fans, and at the end of 2020 this famous book object, Le Diascope, which was a resounding success with your (many) fans. What are your other upcoming projects?

They are very numerous. There is an exhibition in Paris at The Woods Gallery in February, another at the Nero Gallery in Rome in March, a second expo at Hashimoto Contemporary in San Francisco in August 2021 and a project occupying the space of a hotel in Calvi (with sculptures made from my drawings!). On a more personal note, I am also thinking about a third book, on "the first time…" Quite a schedule! In short, I'm not bored.

Thank you for answering our questions, we wish Petites Luxures a long life, and see you soon!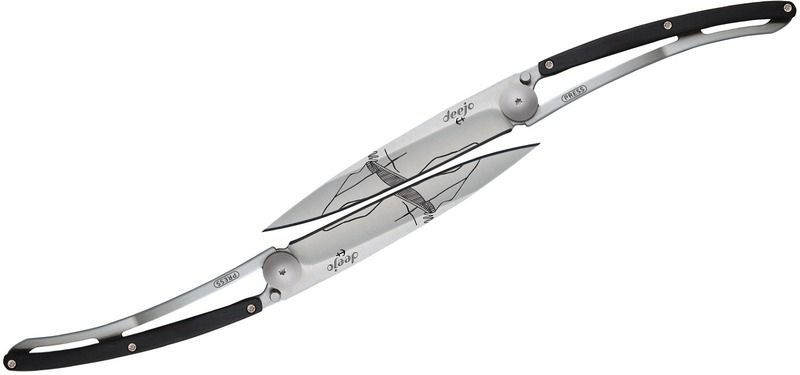 him & him