Tattooing a knife, what an idea! And Deejo makes a pocket knife a fashion accessory that has rarely been so elegant. A Deejo knife endowed with a strong personality: personalized to reflect all tastes, moods, and styles.
By dusting off the concept of the folding knife, Deejo offers this very personal piece a new place in your pocket and in your daily life. The diversity of the graphic universes that tattoo our knives has inspired many of our clients, motivating their photographic skills.
Below is a short selection of some of our favorites.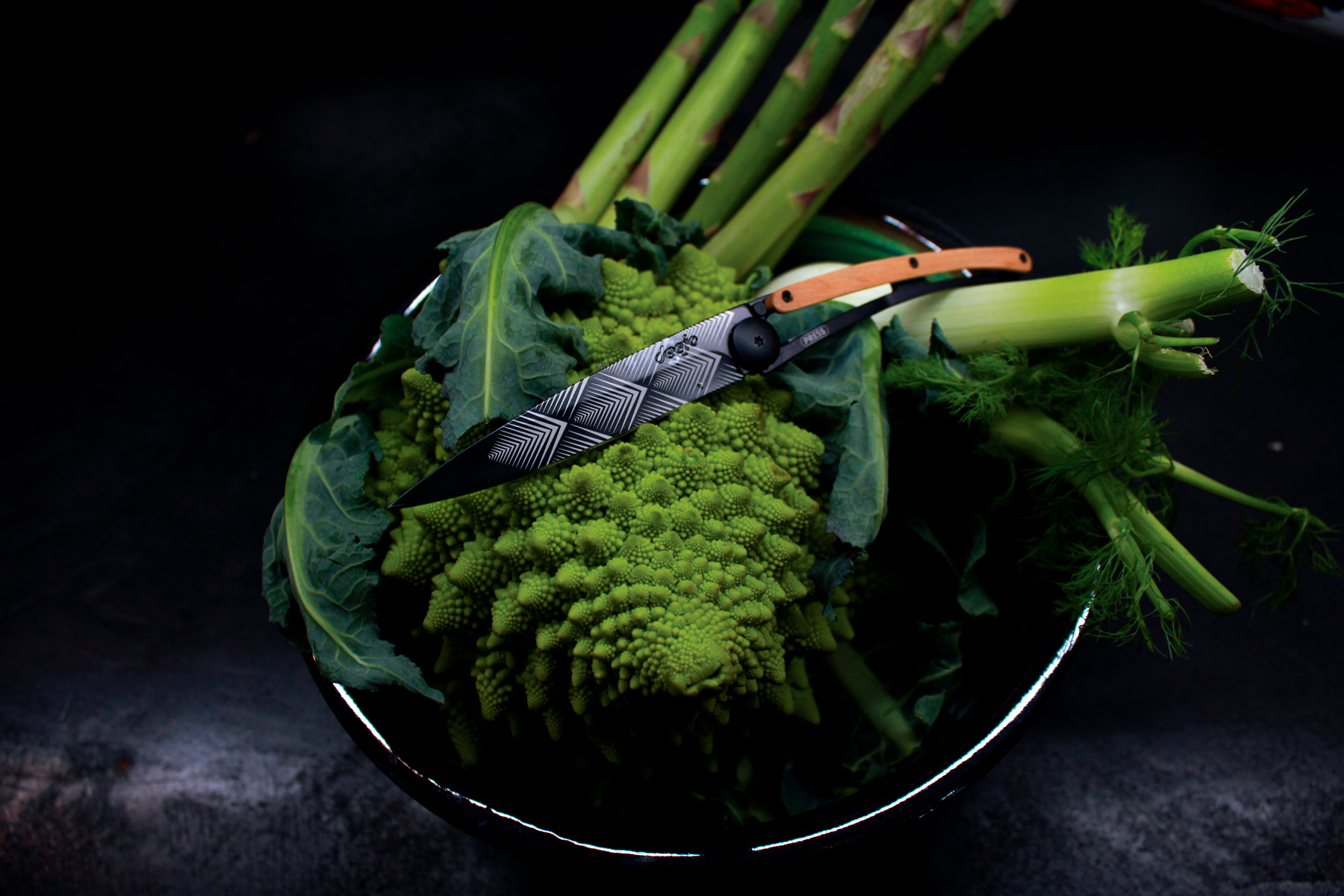 In this image, Benjamin chose to work the contrasts. The black blade of his Deejo pocket knife in black titanium echoes the deep blacks that surround this original composition around a magnificent wild cabbage. The striking features of the Art Deco tattoo and the light of the juniper wood handle catch the eye on the subject of this beautiful image: a magnificent Deejo knife.
Thanks to Ben for sharing this understated and elegant image of this beautiful moment. Black is black and there is no doubt that this Deejo Black 27g pocket knife, adorned with its ebony handle plate, perfectly complements the panoply of a great reporter. On your mark, ready? Cut!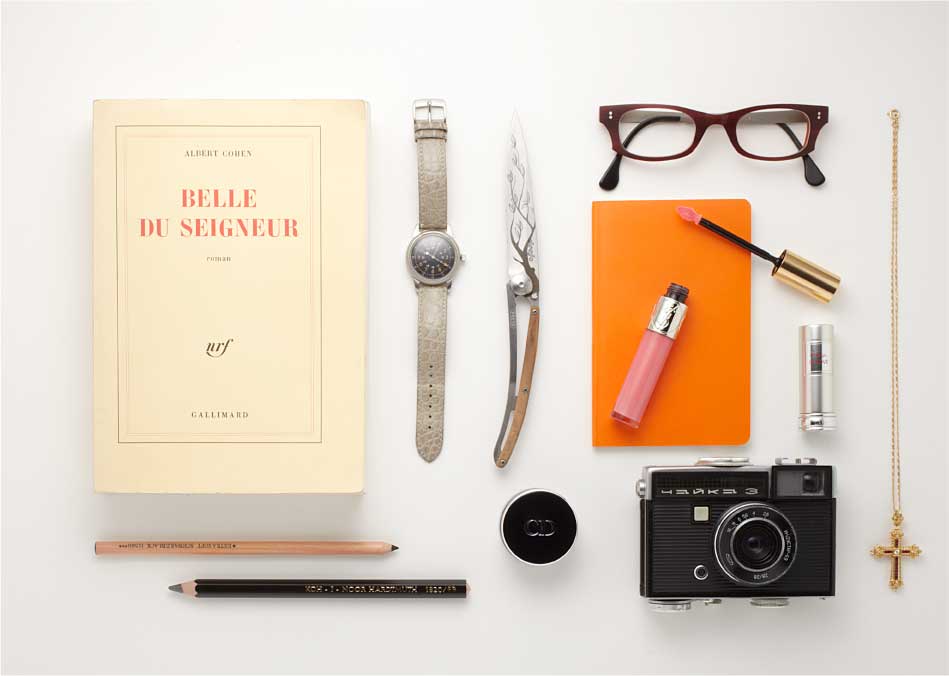 Michèle emptied the contents of her purse for this unique composition around her favourite Deejo, a 37g grey titanium pocket knife, custom made with a juniper wood handle and tree tattoo. Inseparable companion of her daily life, side by side with her stylish glasses, military watch, bold notebook and reading of the moment. Thank you for sharing this beautiful ECI ('Everyday Carry Item').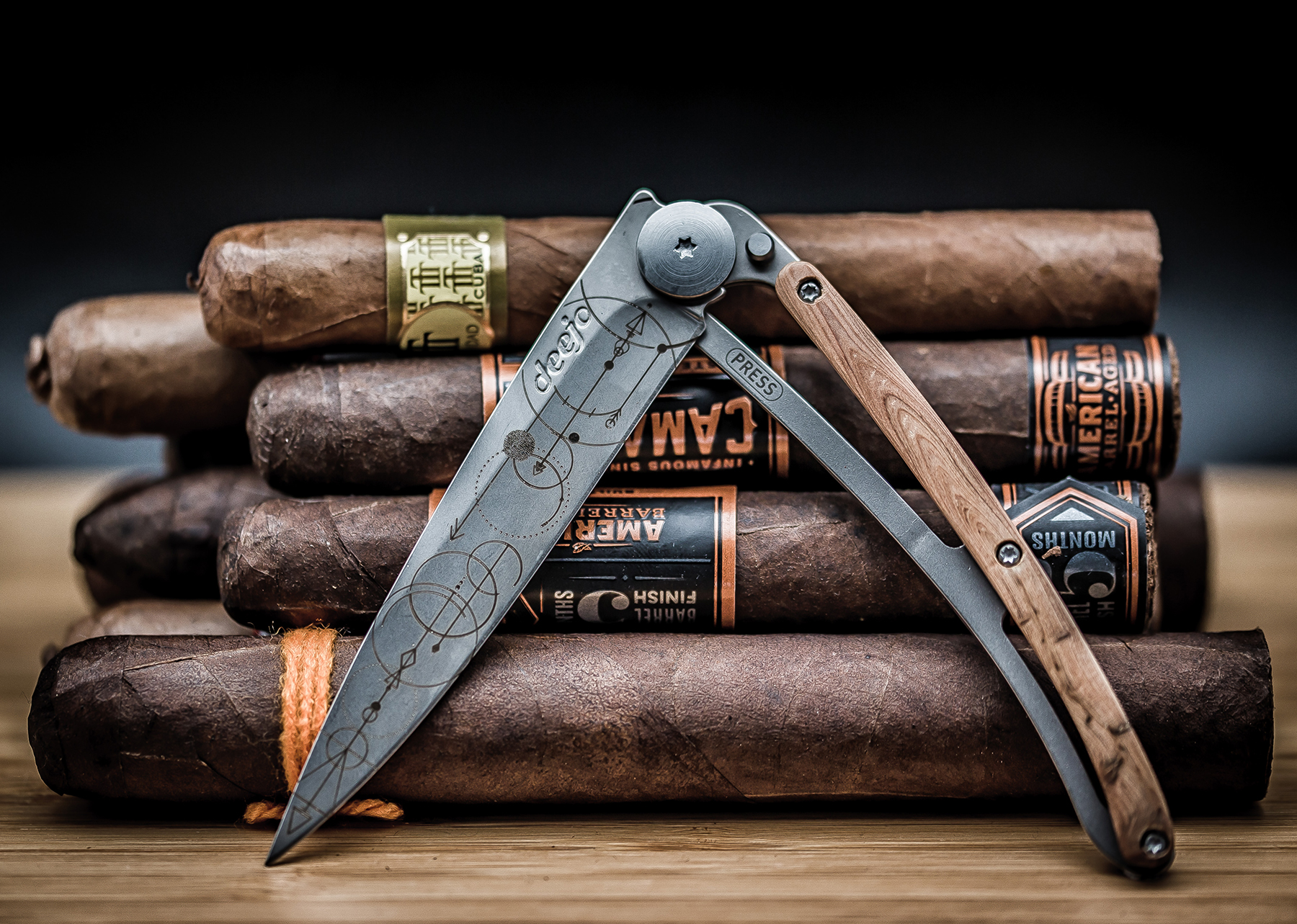 Edouard chose to photograph his Deejo knife in front of his cigar collection. The shades of brown and beige recall the natural warmth of the juniper wood. The matte grey titanium finish and theorem tattoo of this pocket knife tells us a little about the demanding style of this pocket knife's owner.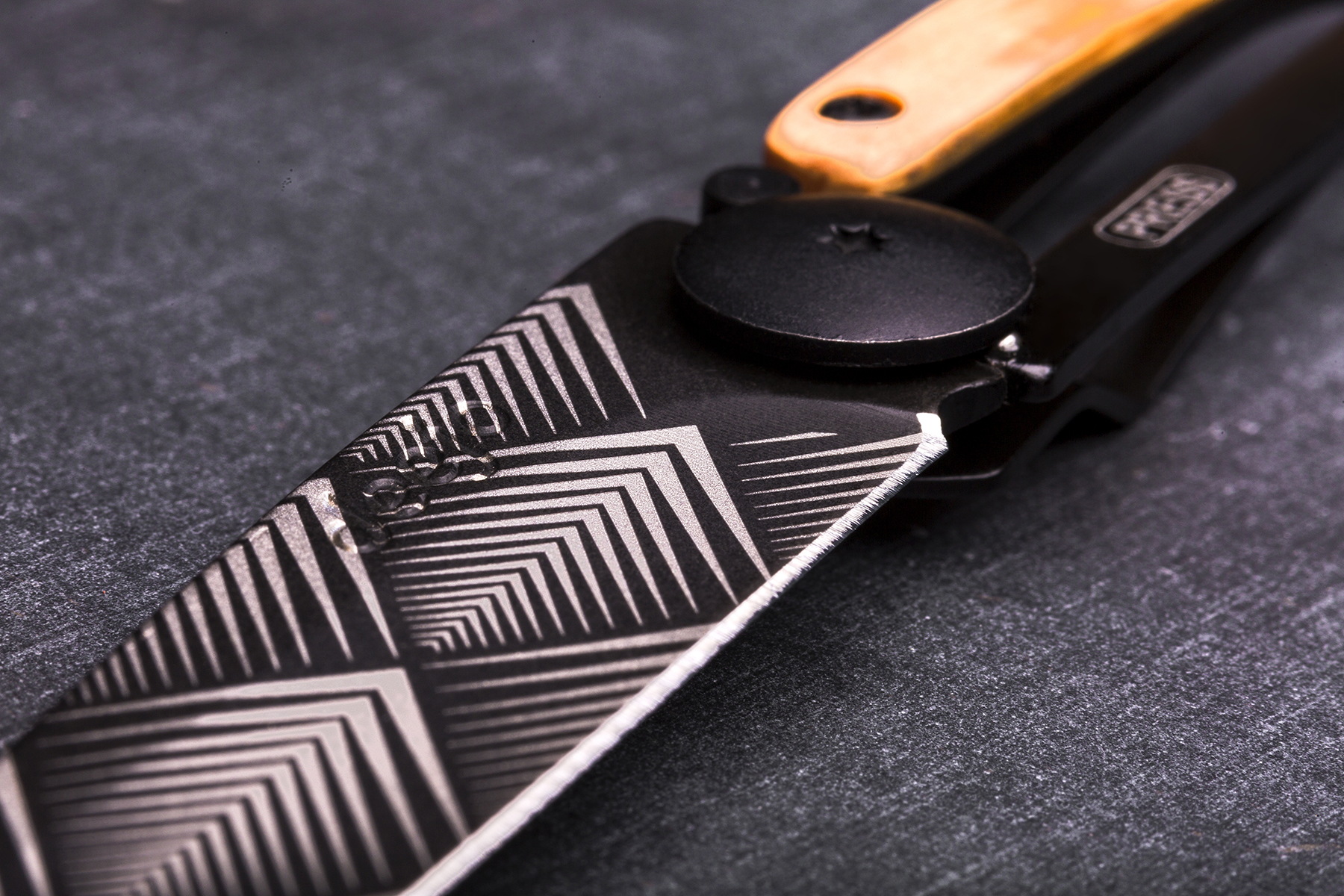 A beautiful macro taken by Aaron to magnify the striking lines of his knife. The cutting edge responds to the herringbone of this disconcerting Art Deco tattoo. In the background, the juniper wood of the handle brings a touch of light to this image almost exclusively in black and white. Unquestionably a very nice tribute to our Deejo pocket knives.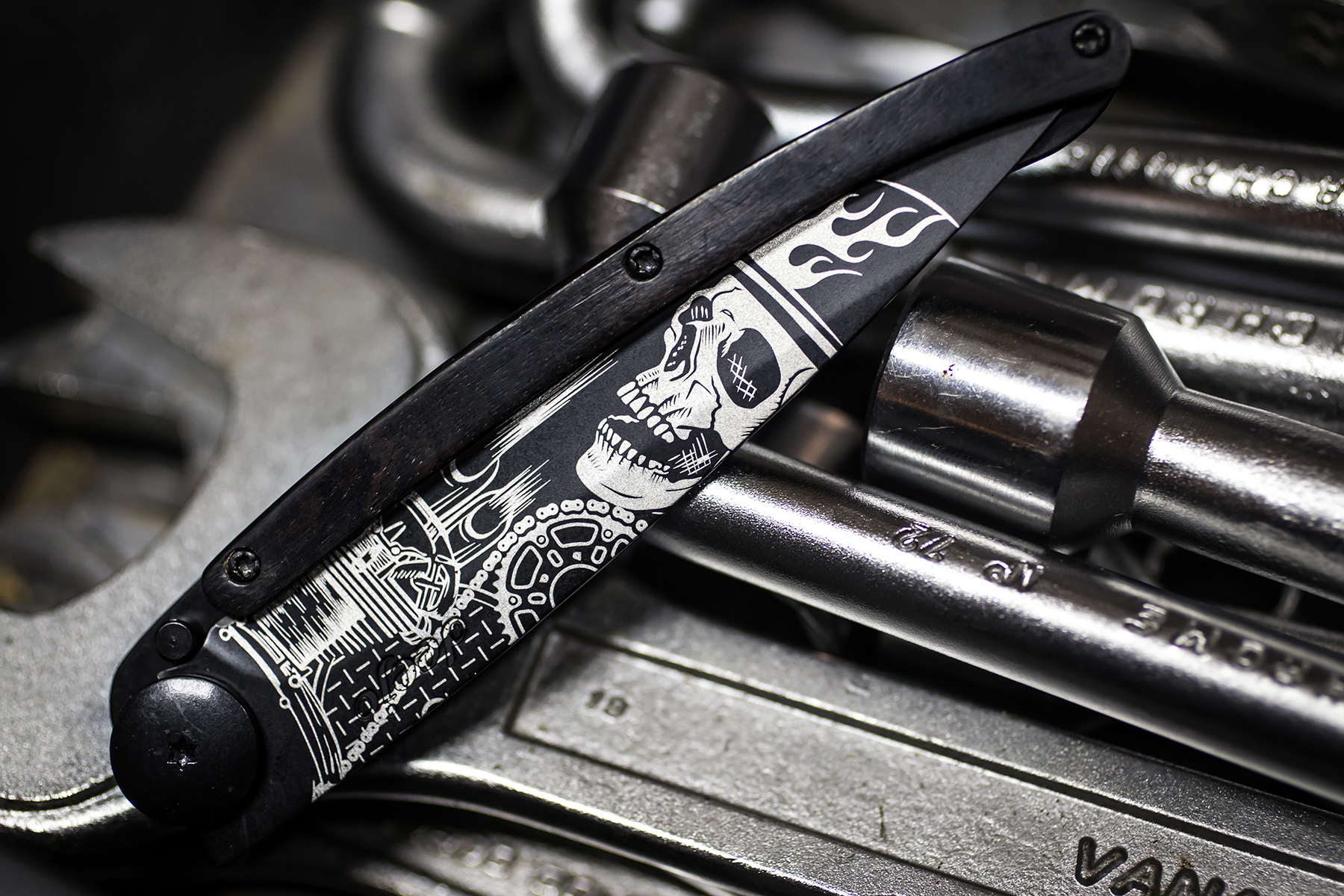 A Deejo knife can be a handy tool, even in a mechanic's workshop. And if not to repair his bike, Christophe admits he still finds use for it when it's time for a drink...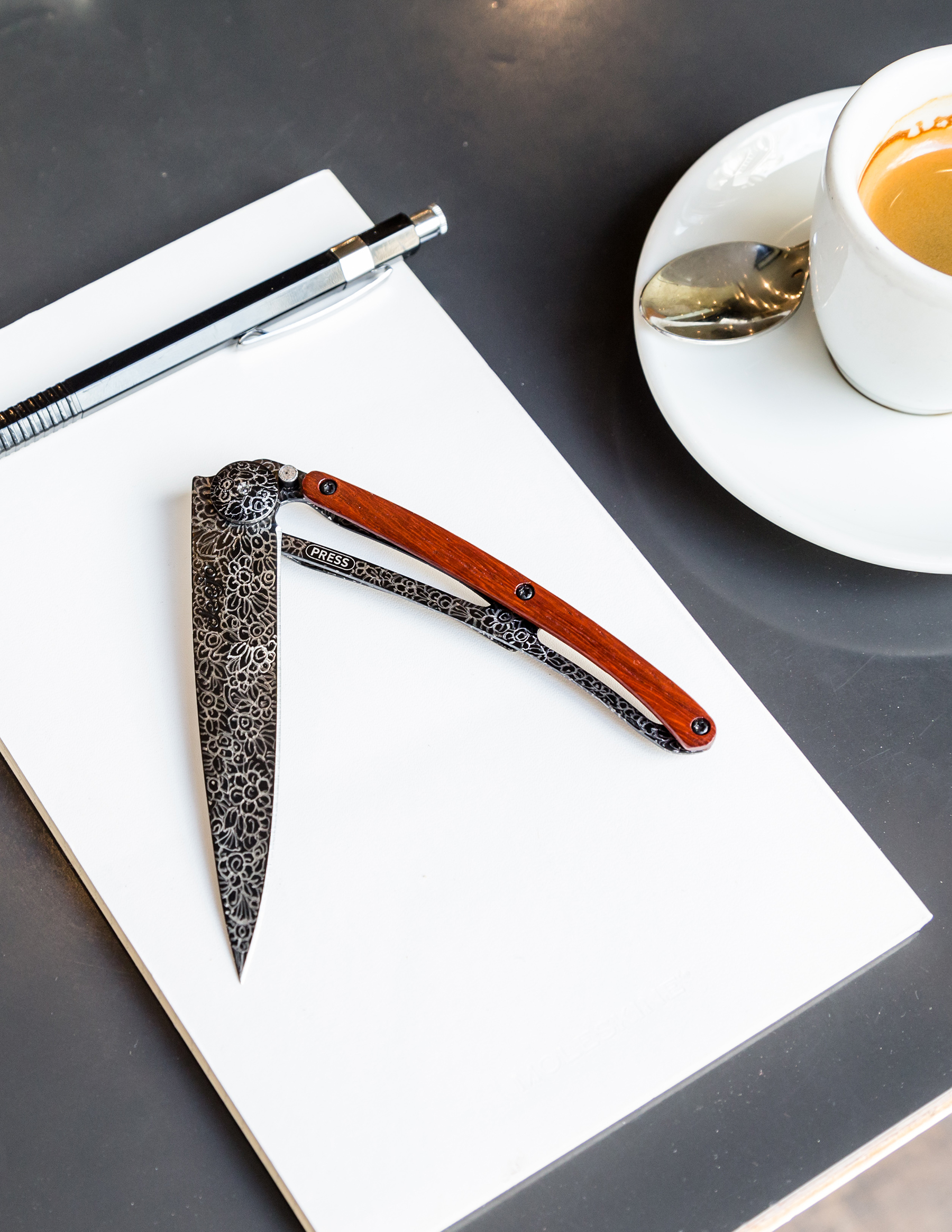 Isabelle perfectly masters our engraving stylus, as evidenced by this original creation. We admire the sense of detail: even the main axle screw of this Deejo knife is tattooed! A beautiful illustration of the infinite possibilities offered by our Deejo engraving kit for the personalisation of our pocket knives.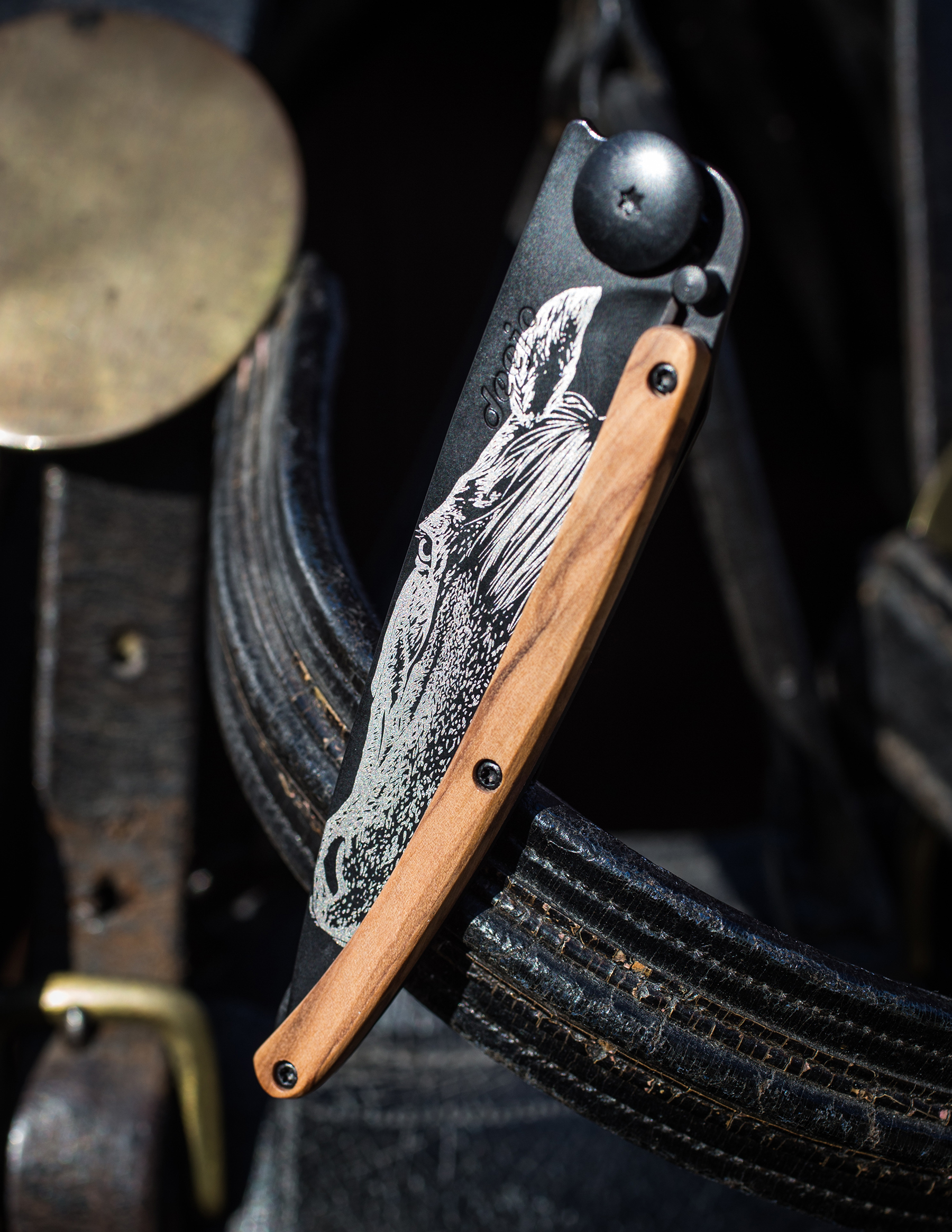 Laure photographed her thoroughbred Deejo pocket knife in front of her riding kit in this beautiful composition, and we thank her for such a story-filled photo. A personalised knife, in her image.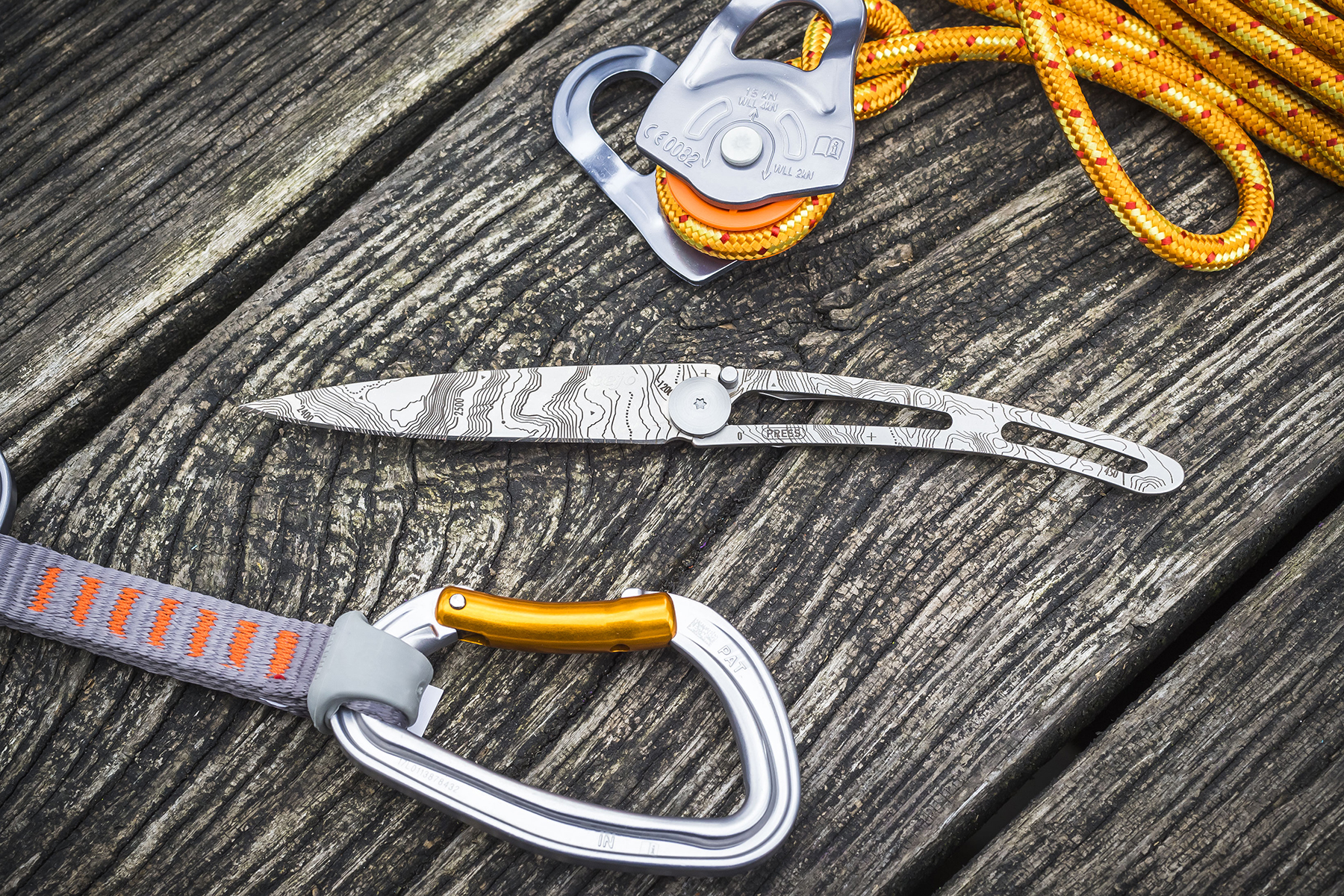 Greg is an unconditional lover of climbing and his Deejo pocket knife is a natural part of his essentials. The topography tattoo on this Deejo Naked pocket knife is not unlike the vein of the wood that forms the background of this splendid composition.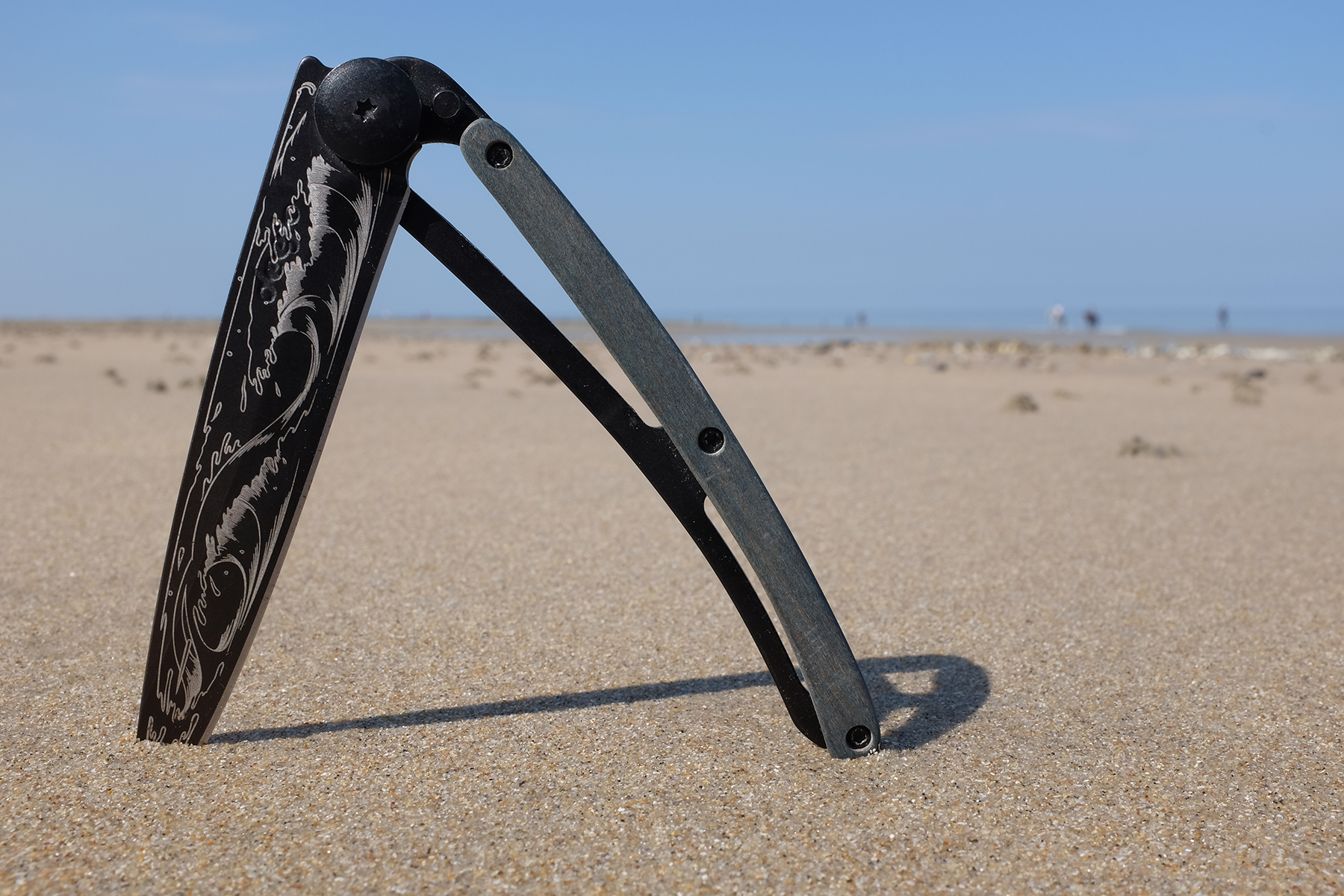 'In the foreground our Deejo pocket knife tattooed with the waves as we love them. Far off, the horizon of promises we make to ourselves'. Thank you to Adeline and Jerome for this very beautiful dedication.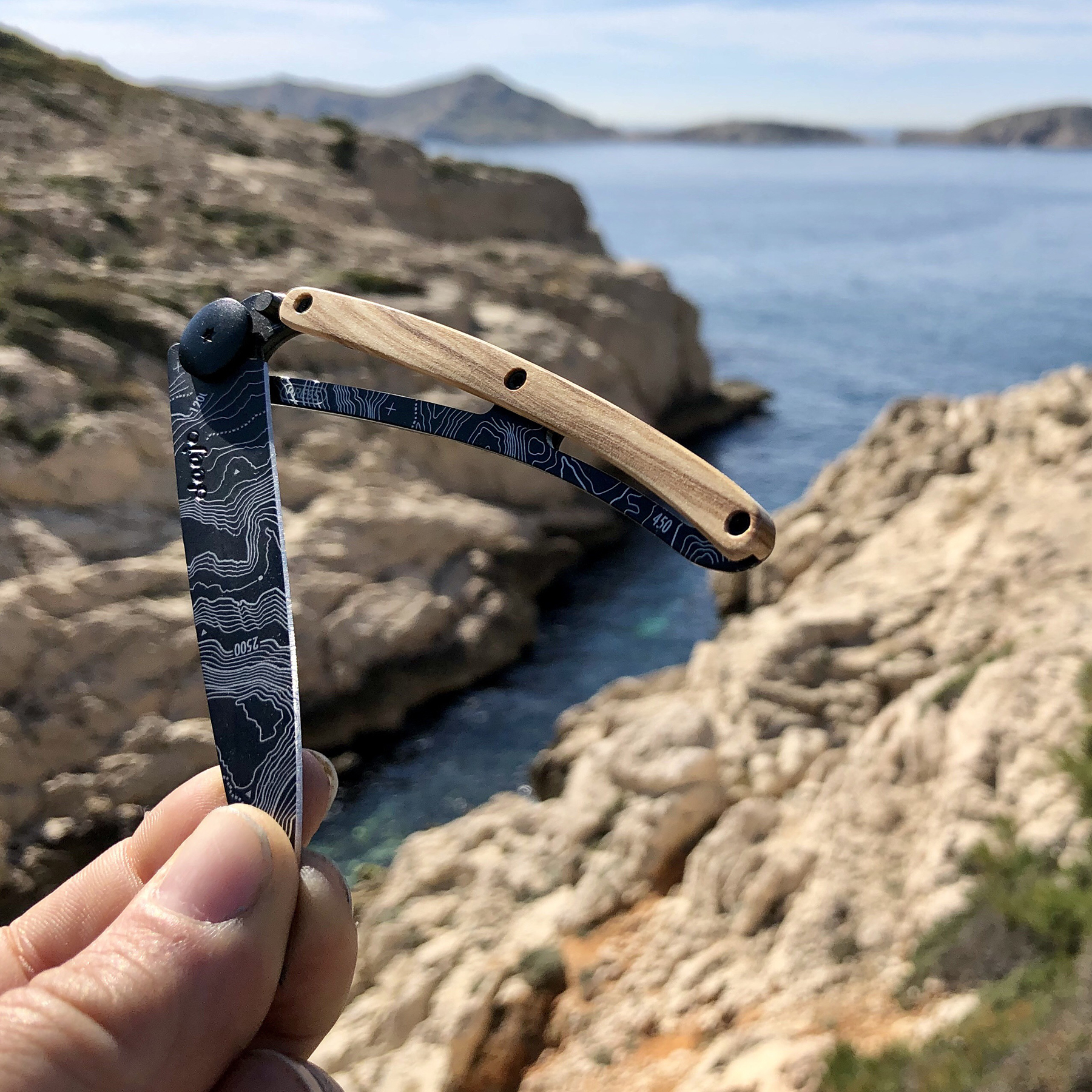 Antoine is from Marseille and an unconditional lover of rocky inlets. His Deejo pocket knife is always ready in his pocket wherever he goes. Thanks to him for sharing with us his personalised Deejo knife, with a topography tattoo engraved on black and an olive wood handle, in the context of this magnificent landscape.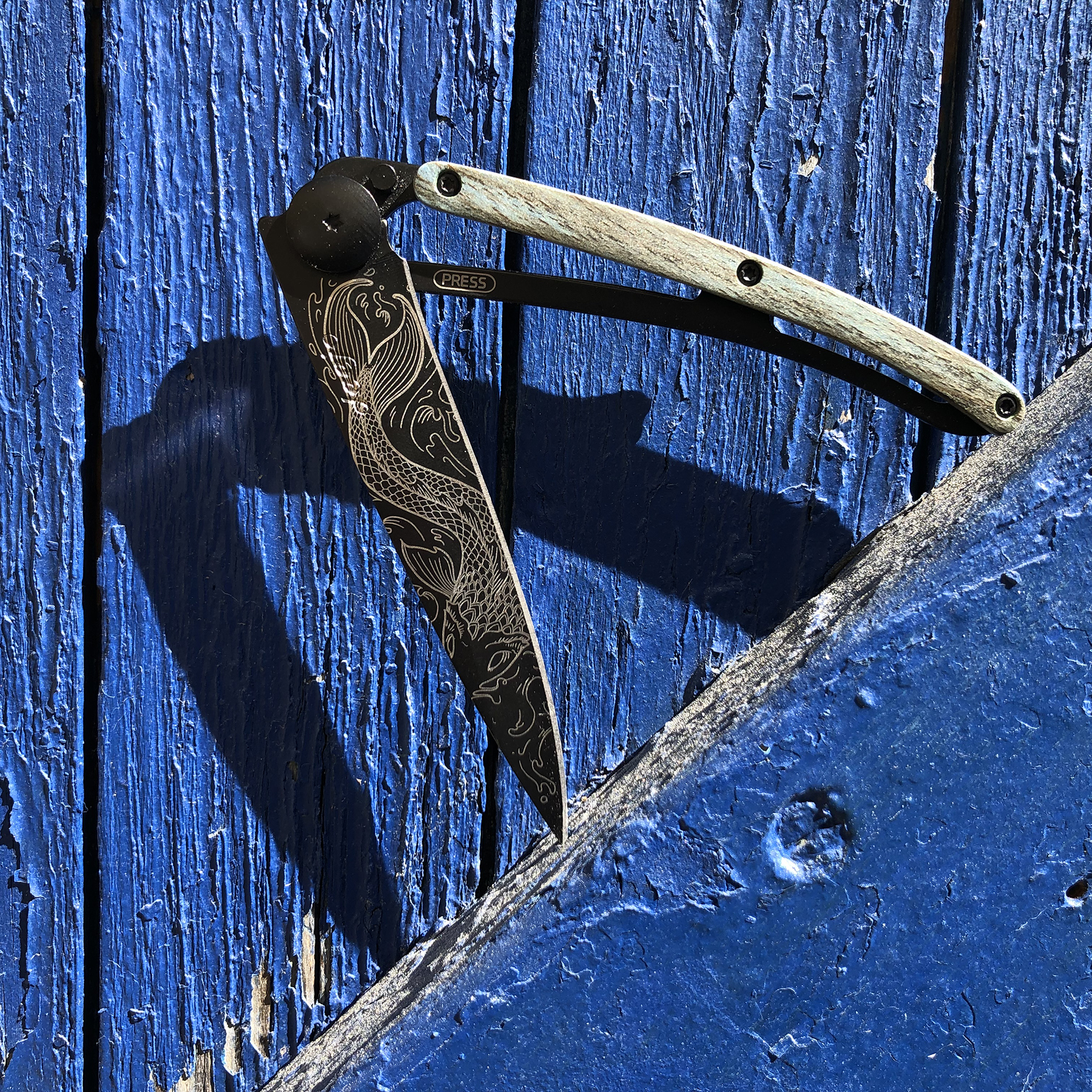 Yanis sent us this searing image of his Deejo pocket knife from the Cyclades where he likes to spend his summers. Tattooed with a beautiful fish, we have only to imagine the blue of the ocean and the white of the stones.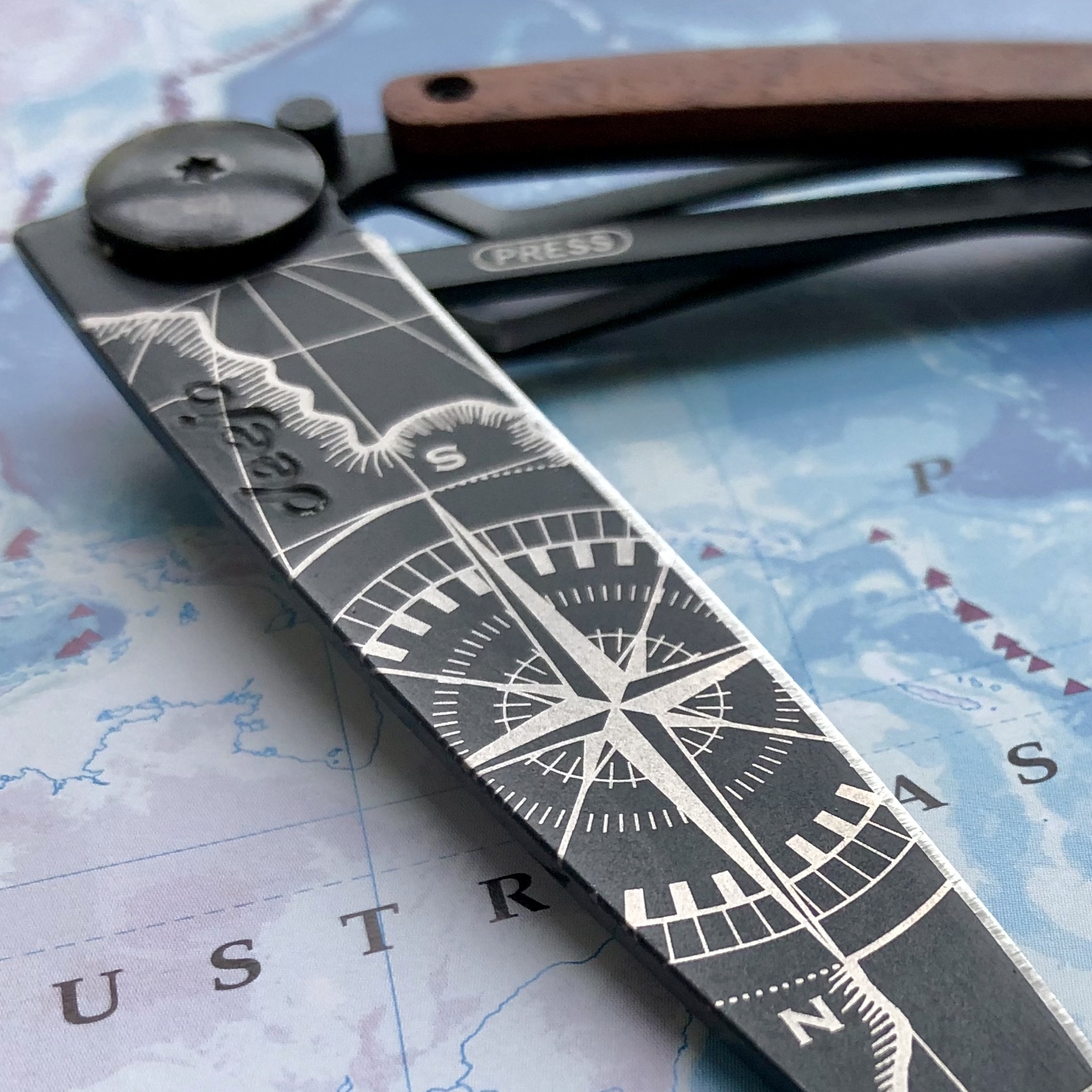 A close-up on this beautiful compass rose that adorns our Deejo with its tattoo of 'Terra Incognita', photographed by Ludovic during the preparation of his world tour. Fair winds to you, Ludo!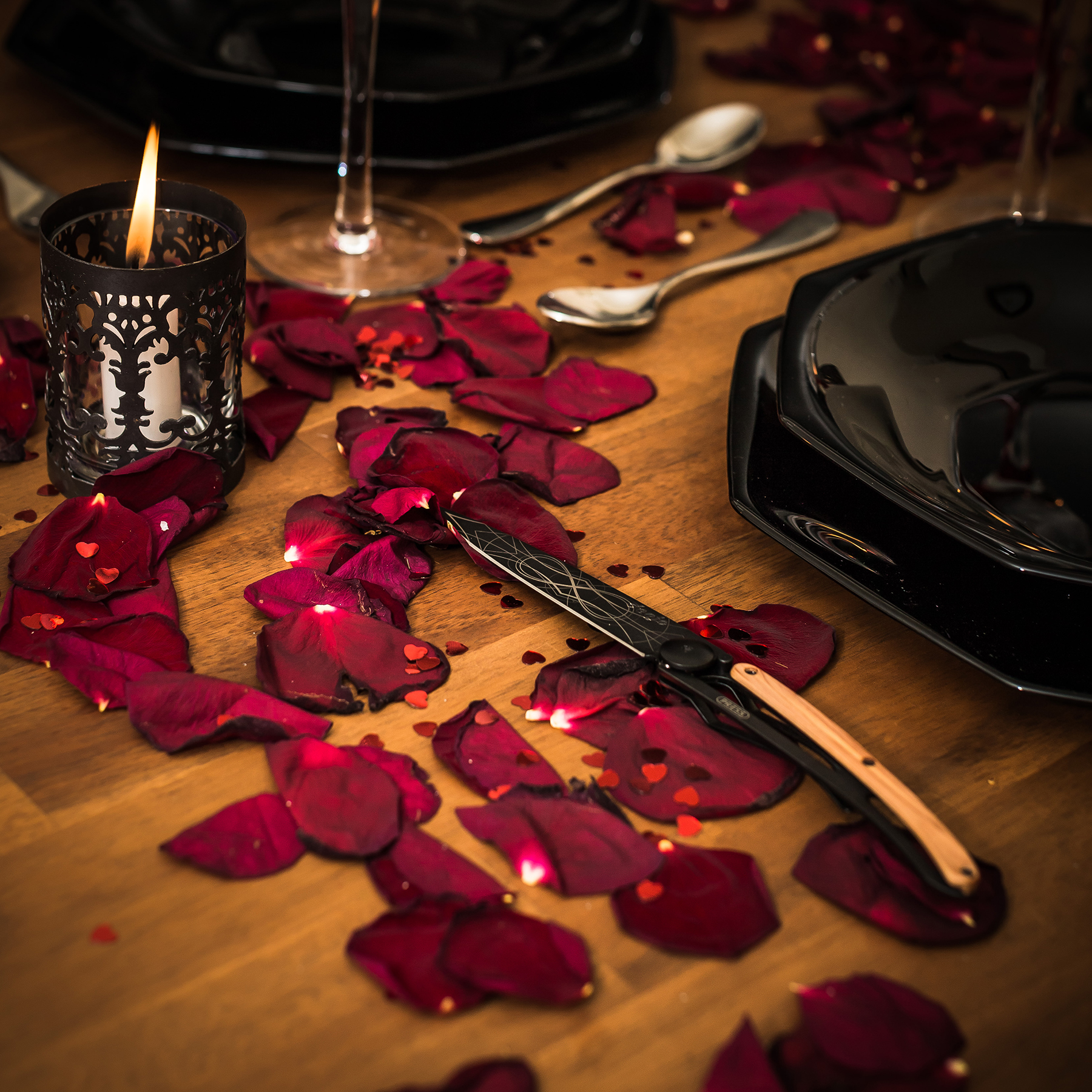 Warm ambiance and romantic atmosphere fills this image taken by Enzo for Valentine's Day. This Deejo 37g Black folding knife with its juniper wood handle and infinity tattoo on a trail of rose petals simultaneously creates both the dark and the luminous. Everyone to the table !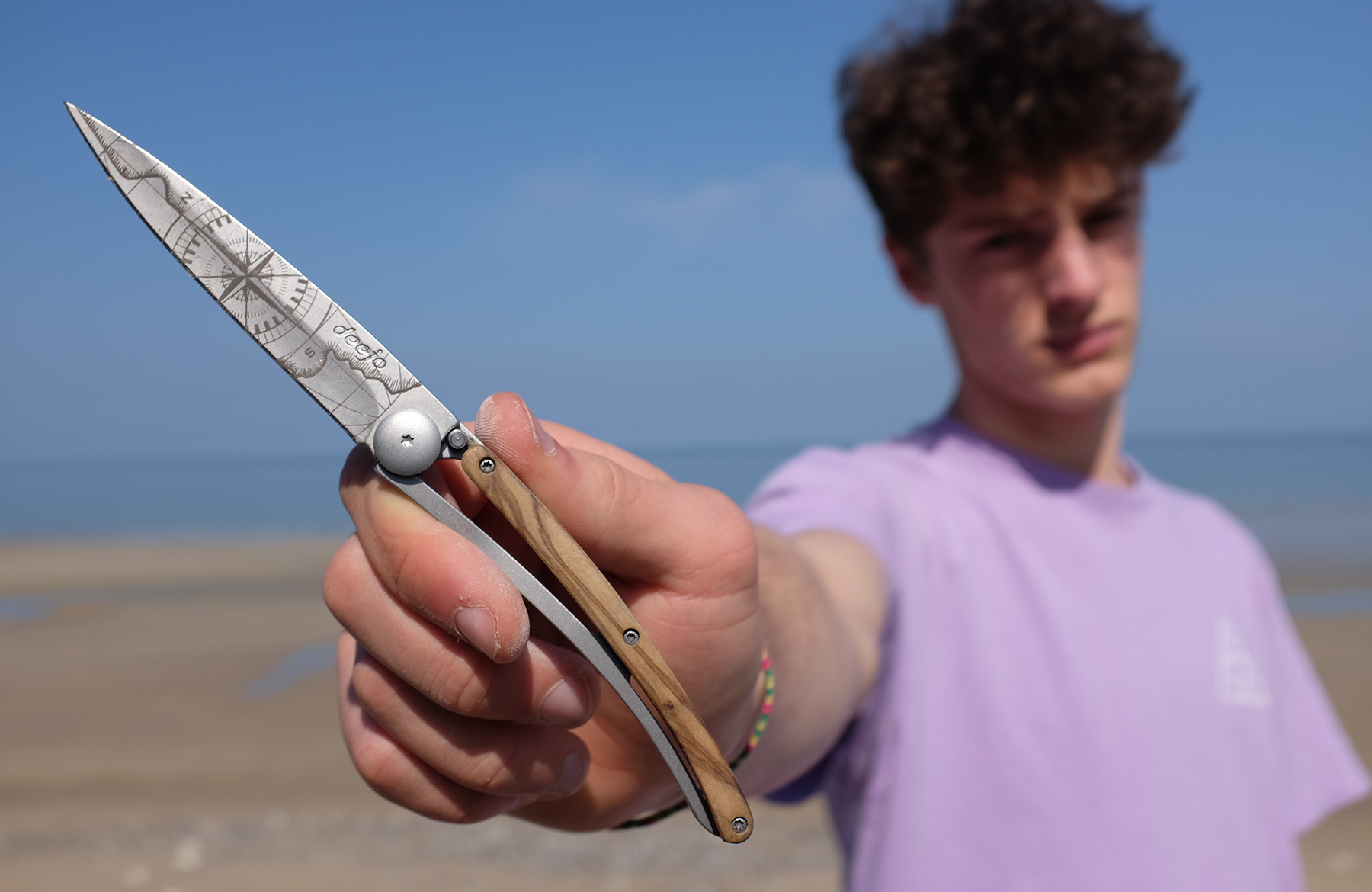 This Deejo image by Baz is an invitation to venture forth. This tattooed pocket knife with the motif of 'Terra Incognita' became in only a few months an emblematic model of our collections. Thanks to Baz for this highlight.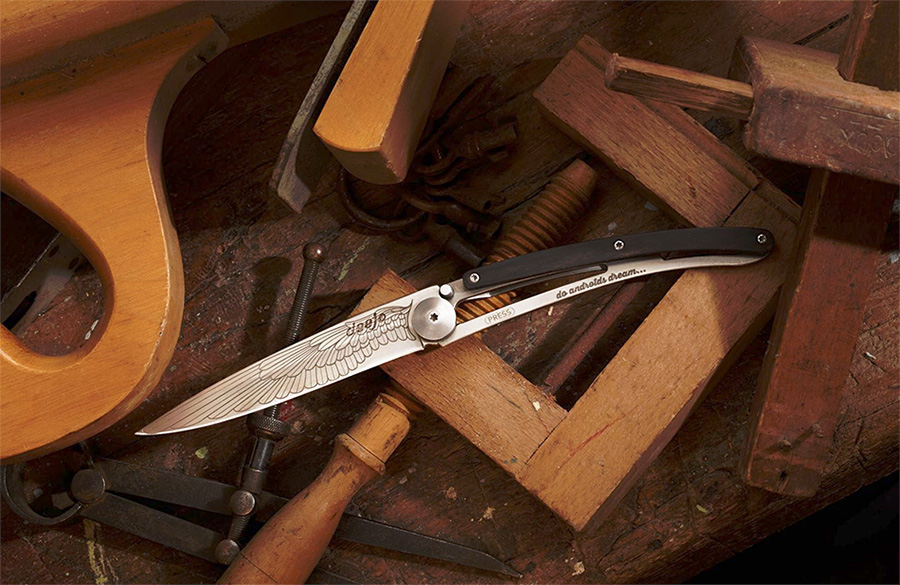 The original composition created by Benoit Jeanneton stages a Deejo folding knife named "my Deejo is beautiful". A true statement of love to his pocketknife that integrates a nod to Deejo and a subtle wink. The knife is customized with an engravement "do androids dream…", which may appear amusing in a photograph with a Deejo knife surrounded by old wooden objects. The technological dream lost among ancient carpentry tools: we love it.

On the customization side, we have a 37G pocketknife with a titanium finish, the "wing" tattoo and a ebony wood handle.