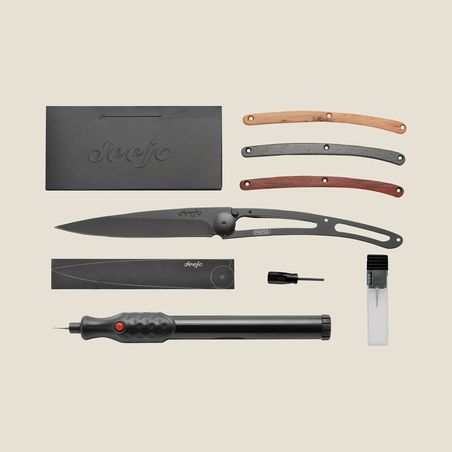 Engraving kit 'Tattoo your Deejo'
Engrave the motif of your choice on the blade of a Deejo that will become yours alone. The universal engraver delivered in this box offers inspirations on nearly all matters.
Discover this product in video : Box containing a Deejo 37G "black," with 3 handle mounts (carbon fiber, juniper wood, coralwood), a recto/verso test piece in black metal, an engraver stylus in ABS black, 3 diamond burrs, a set of screws, and a steel Tork wrench. Requires two AAA batteries (not included).
SPECIFICATIONS
Material : Z40C13
Weight : 37 grams (1.30 oz)
Closed length : 11 cm (4.33")
Open length : 20,5 cm (7.87")
Blade length : 9,5 cm (3.74")
Thickness : 0,9 cm (0.35")
DETAILS
Your Deejo engraving kit comes with 3 different plates to offer you several combinations depending on the nature of your creation:

Carbon fibre: characterized by its low density, high tensile and compressive strength, and excellent chemical inertness, carbon fibre is also appreciated for its dynamic aesthetic. Deejo naturally has made it one of its favourite materials to adorn its most beautiful pieces.

Juniper: juniper is a naturally fragrant wood, offering a slightly peppery scent. All in arabesques of beige, each plate, finely veined, makes your Deejo a unique and exquisite piece.

Coral wood: coral wood (or padauk) is an abundant wood species long used in cutlery for its exquisite reflections in red/amber (hence its name), its robustness and its excellent resistance to humidity. Here it wonderfully underscores the elegance of a Deejo knife.

The knife is made of stainless steel fixed with a fine layer of black titanium. This finish has a double advantage: it reinforces surface resistance to shocks and scratches, and second, it renders sublime the elegant lines of your knife by adding subtle matte black reflections. A discreet finish par excellence, the steel acquires a slight patina over the years to further enhance this beautiful piece of cutlery.

The engraving pen allows you to remove the titanium coating from your Deejo knife and thus bring forth the shine of steel revealing the design of your own creation. Note that each engraving pen comes with 3 spare nibs, letting you engrave other knives and also exercise your creativity on different media, such as wood, plastic, glass or leather.
ESSENTIAL
Are you passionate about a video game? A particular cinematic universe? Do you swear by a sports club or a special pastime? Do you have a creative streak where you love resolutely unique pieces? Create and tattoo a Deejo that belongs only to you!

The Deejo engraving kit has been designed for all who do not want to break the mould but MAKE the mould: your creativity will be your only limit!

And if you're not feeling too creative, you can inscribe your name or play with words: use your Deejo knife as a greeting card. For a birthday or on the eve before a voyage to the ends of the world, wish them a happy birthday or a great trip on a Deejo they will not soon forget!
CARE GUIDE
To slice meat, peel fruit or open a parcel, your Deejo knife cuts anywhere, anytime, and always with elegance.

Like any knife, your Deejo blade edge will wear with use. To maintain a perfect edge, it is advisable to sharpen the blade of your Deejo regularly. We use a Z40C13 stainless steel, hard enough to maintain a perfect edge over time and soft enough for you to re-sharpen your knife easily. Your Deejo knife can be sharpened using a whet stone, sharpening steel or sharpening set. Be careful not to damage the aesthetics of the blade during this operation.

SPECIFIC PRECAUTIONS FOR CLEANING: hand-wash your Deejo knife using a damp sponge, avoiding the abrasive side of the sponge. These Deejo knives are not dishwasher safe so risk irreparably damaging the knife's articulating system.
Click here to discover our advice on the best ways to maintain the blade edge of your Deejo.
SHIPPING AND RETURNS
Orders placed before noon (Greenwich time) are dispatched the same day. Delivery times are 48H/72H in Europe and 2 to 4 days in the rest of the world.

Satisfied or refunded: if your product is a catalogue product, you have 14 days to return it to us and obtain a refund.

SPECIFIC CASE OF CUSTOM ORDERS: all our knives can be personalized via our configurator.

In accordance with the current legislation in force, products made to measure are not eligible for return or exchange.