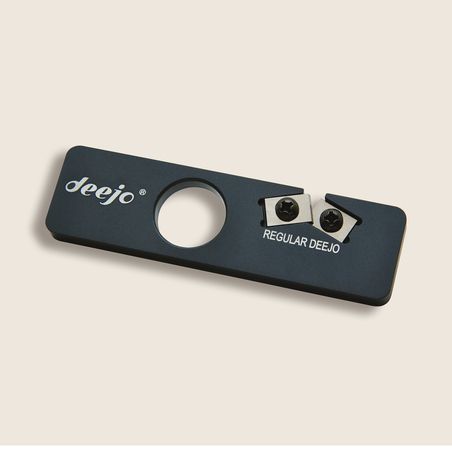 It has never been easier to sharpen a Deejo knife—and with no risk of scuffing your tattoo!
Pocket sharpener at a fixed 40° angle. Double-blade tungsten carbide face. Black aluminum handle.
SPECIFICATIONS
Material: Aluminum & Tungsten Carbide
Weight: 35 grams (1.23 oz)
Dimensions: 9 X 2,5 cm (3.54 x 0.98")
Thickness: 0,5 cm (0.2")
DETAILS
The tungsten carbide blades of the Deejo sharpener let you sharpen your Deejo knife effortlessly and without the risk of scratching the blade. The fixed angle of 40 degrees is perfectly suited to the blade edge of our pocket knives as well as our steak knives.

Delivered in a micro-fibre carrying pouch, your sharpener travels everywhere with you.

IMPORTANT: this sharpener can only be used with razor-blade knives (smooth edge). Knives with micro-serrated blades cannot be sharpened with this tool.
ESSENTIAL
Like any knife, the edge of your Deejo blade wears with use. To maintain a perfect edge, a source of pleasure and of safety, you should re-sharpen the blade of your knife regularly.

The Deejo sharpener has been optimized for our knives with a fixed angle perfectly suited to the edge of our blades. Easy to use, you sharpen your knife without the risk of hurting yourself or damaging the blade. Transportable, you can take it everywhere to enjoy a perfect edge anywhere, in any circumstance.
CARE GUIDE
The Deejo sharpener does not require any special maintenance.

After several thousand sharpenings, if you notice a drop in product performance, simply unscrew it, turn it 180 degrees and then screw the opposite side of the 2 tungsten carbide blades to find a perfect edge for another several years.
SHIPPING AND RETURNS
Orders placed before noon (Greenwich time) are dispatched the same day. Delivery times are 48H/72H in Europe and 2 to 4 days in the rest of the world.

Satisfied or refunded: if your product is a catalogue product, you have 14 days to return it to us and obtain a refund.

SPECIFIC CASE OF CUSTOM ORDERS: all our knives can be personalized via our configurator.

In accordance with the current legislation in force, products made to measure are not eligible for return or exchange.