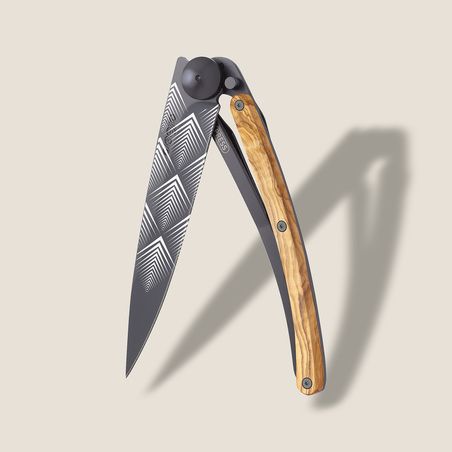 Deejo 390g
Olive wood / Art Déco
Our giant Deejo knife is adorned here with one of the great classics of our 'Art Deco' tattoos to further refine this beautiful oversized blade, rightly the object of all superlatives. An exceptional piece to offer or possess for moments decidedly out of the ordinary.
Knife in 3CR13 stainless steel, matte finish. Secure liner lock system. Belt clip. Olive wood handle.
SPECIFICATIONS
Material : 3CR13
Weight : 390 grams (13.80 oz)
Closed length : 23.5 cm (9")
Open length : 43 cm (16.92")
Blade length : 19 cm (7.48")
Thickness : 3,1 cm (1.22")
DETAILS
The handle is decorated with an olive wood plate. Olive wood, known for its robustness and antibacterial qualities, is a great classic in cutlery. Widely acclaimed by enthusiasts for the beauty of its natural grain, each piece is unique depending on the tree from which it is fashioned, illuminating your Deejo with superb arabesques of beige, without fear of humidity or time.

Obtained by fixing black titanium to a stainless steel base, this finish has a double advantage. First, it reinforces surface resistance to shocks and scratches, and second, renders sublime the elegant lines of your knife underscoring subtle matte black reflections. A discreet finish par excellence, the steel acquires a slight patina over the years to further enhance this beautiful piece of cutlery.
ESSENTIAL
For a birthday, a retirement or a friend who appreciates a good steak, our 390g knife is the ideal Deejo for special occasions.

Impressive and solid, it possesses the same characteristics as a classic Deejo knife…oversized.

You need to hold it in your hands to truly appreciate its comfort, weight, volume: an exceptional piece, in the first sense of the word.

As our neighbours across the Atlantic say: 'Think big!*'

* Think big!
CARE GUIDE
Your Deejo knife cuts the most delicate raw or cooked foods with formidable efficacy and rare elegance.

Like any knife, the edge of your Deejo blade wears with use. To maintain a perfect edge, it is advisable to sharpen the blade of your Deejo regularly. We use 3CR13 stainless steel, which is perfectly suited to the food use for which it is intended. Your Deejo knife can be sharpened using a whet stone, sharpening steel or sharpening set. Be careful not to damage the aesthetics of the blade during this operation.

SPECIAL PRECAUTIONS FOR CLEANING: adorned with a wooden handle, Deejo knives are not dishwasher safe. Use the soft side of a damp sponge or cloth to clean your Deejo, avoiding scraping the blade. The abrasive side of the sponge should always be avoided.
SHIPPING AND RETURNS
Orders placed before noon (Greenwich time) are dispatched the same day. Delivery times are 48H/72H in Europe and 2 to 4 days in the rest of the world.

Satisfied or refunded: if your product is a catalogue product, you have 14 days to return it to us and obtain a refund.

SPECIFIC CASE OF CUSTOM ORDERS: all our knives can be personalized via our configurator.

In accordance with the current legislation in force, products made to measure are not eligible for return or exchange.