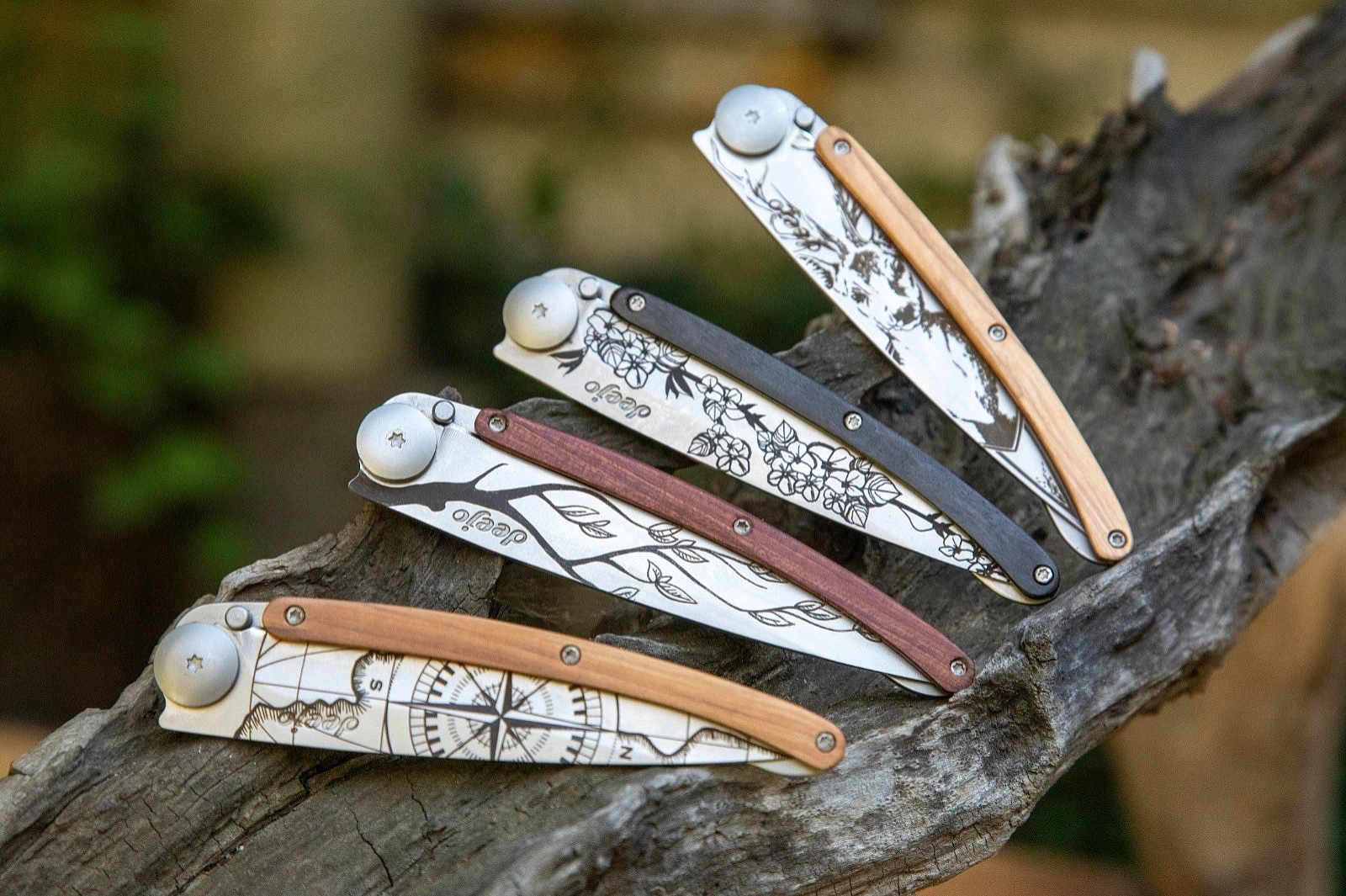 Laurent Peugeot, A HYMN TO TRUE PRODUCTS
01/06/2022
Laurent Peugeot, Michelin-starred chef at restaurant Le Charlemagne, has an unwavering passion for 'true' products: which we know to the finest detail, which we work on with passion and which delight our eyes as well as our tastes.
Laurent Peugeot welcomes us on this Thursday in February in the heart of the vineyards of Burgundy, the place of his origins and one he cherishes. Le Charlemagne, the establishment he has been running for more than twenty years, overlooks the Pernand-Vergelesses vinyards. 'You will have to come back in the fall, when the Côte d'Or proves its name. It's simply sublime,' he says, his eyes turned towards a landscape he obviously never tires of. 'Like my cooking', he confides, 'the vine evolves to the rhythm of the seasons…'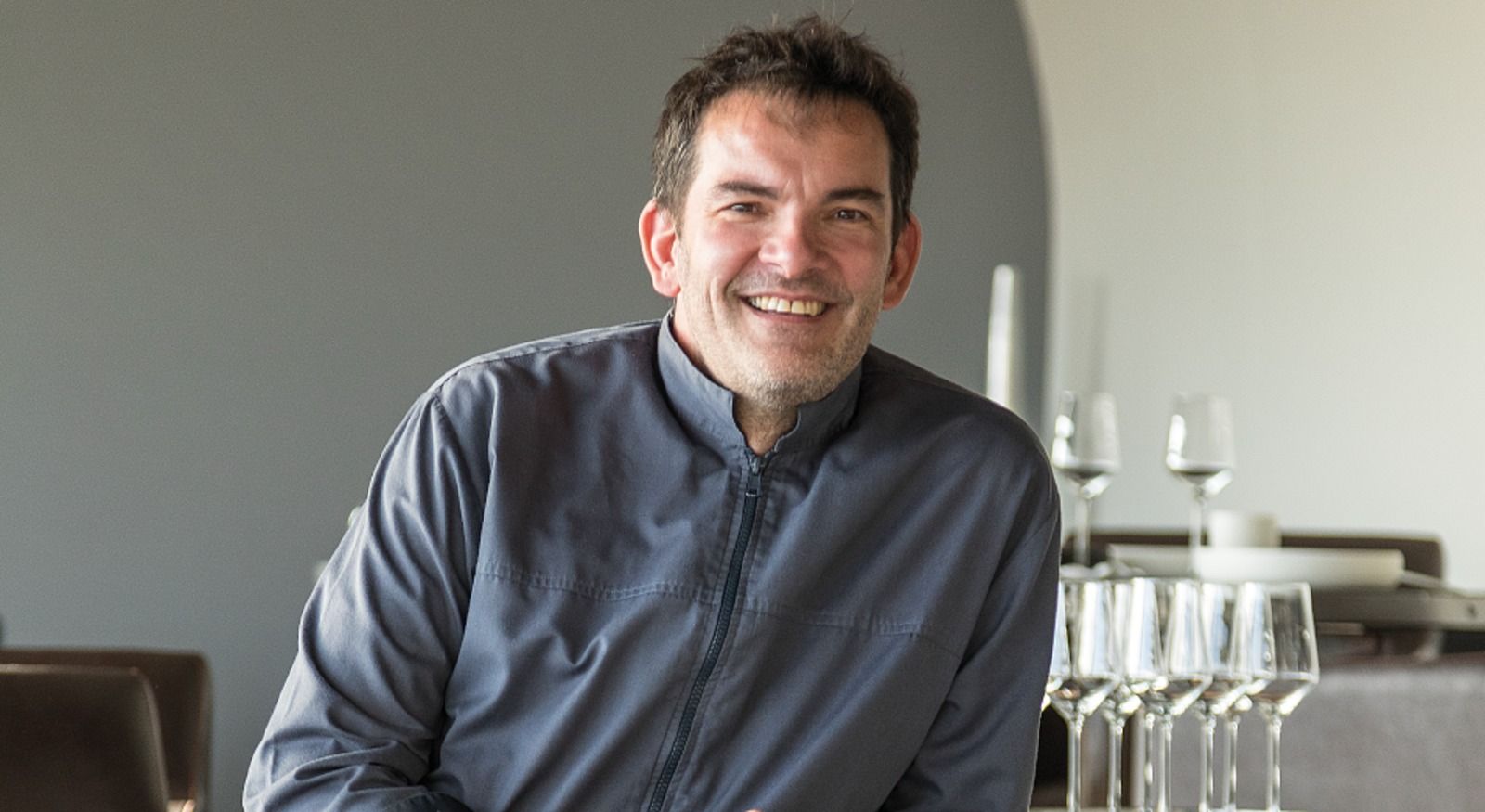 While slicing a radish of improbable colours in the kitchen, Laurent recounts his first experiences in the kitchens of the Maison Lameloise, his journey of a half dozen years in Japan, and his return to his native land. In 2001 he bought a 'small roadside restaurant' on the Route des Grands Crus which, after extensive work, became his main base of operations, Le Charlemagne.
When we talk about knives, Laurent is ecstatic: 'It's a beautiful object, a symbol of sharing. Did you know that the Japanese have an incredible cult of the knife? They don't speak to them, but nearly! I love to watch my customers take from their pockets the Deejo I gave them…
Indeed, Deejo knives have long been at the heart of The Charlemagne gastronomic experience. It was through a story in the magazine Arts & Gastronomie that Laurent discovered this knife. He immediately decided to make it an emblematic object in his restaurant. When you enter the room, the clean lines of the Deejo knives are evident. 'We made it a central object of the meal, placing it in the centre of our high rimmed plates. The black reflections of titanium and ebony contrast with the dazzling white of the ceramic.
In the restaurant's boutique, you can find almost the entire Deejo range, as well as an exclusive model bearing the image of the race car belonging to his son, Enzo, 16, who has just been accepted to a Formula 3000 team... And at the cooking lessons Laurent sometimes holds on Saturdays, his students each leave with a Deejo paring knife offered at the start of the class.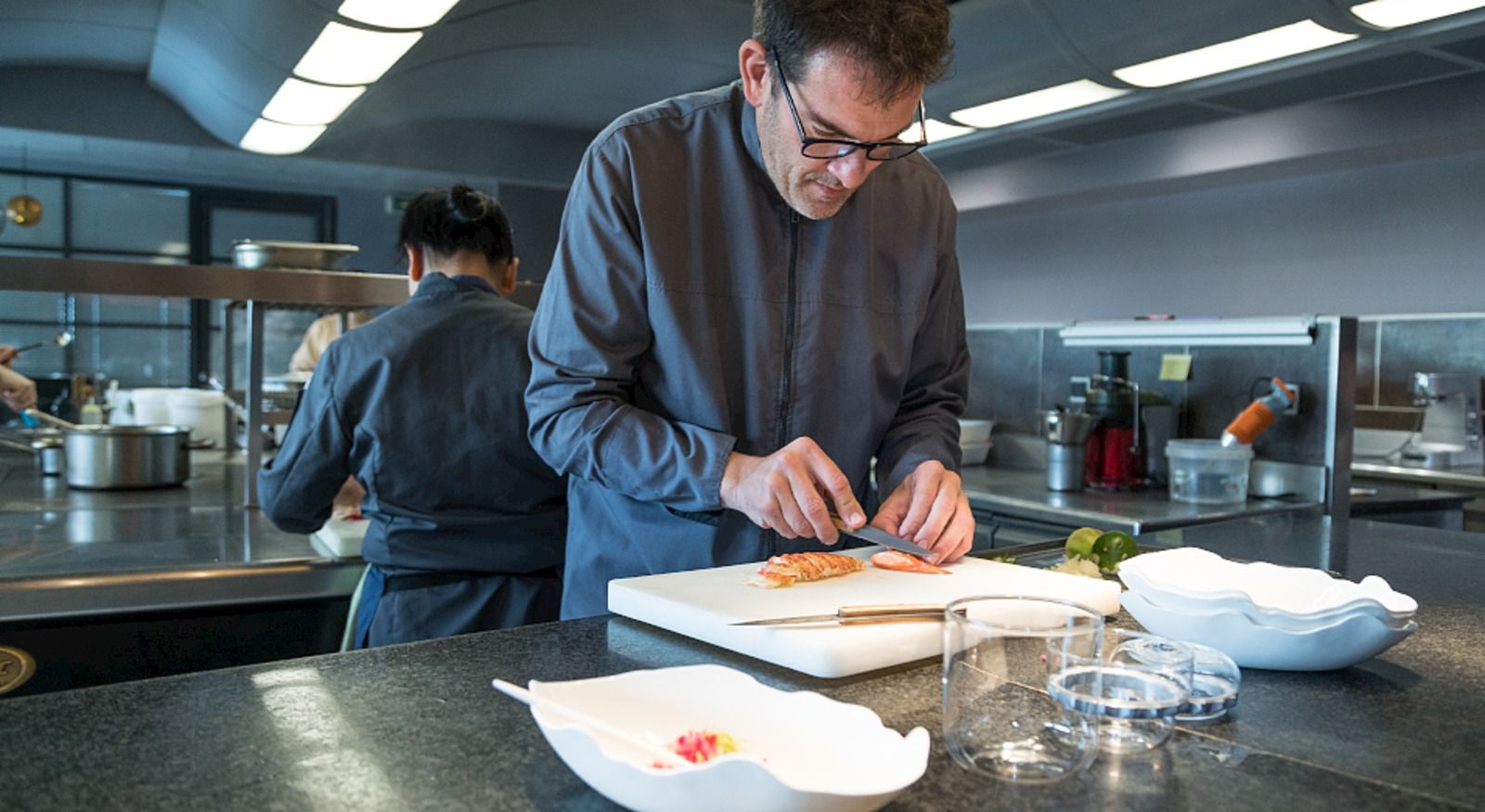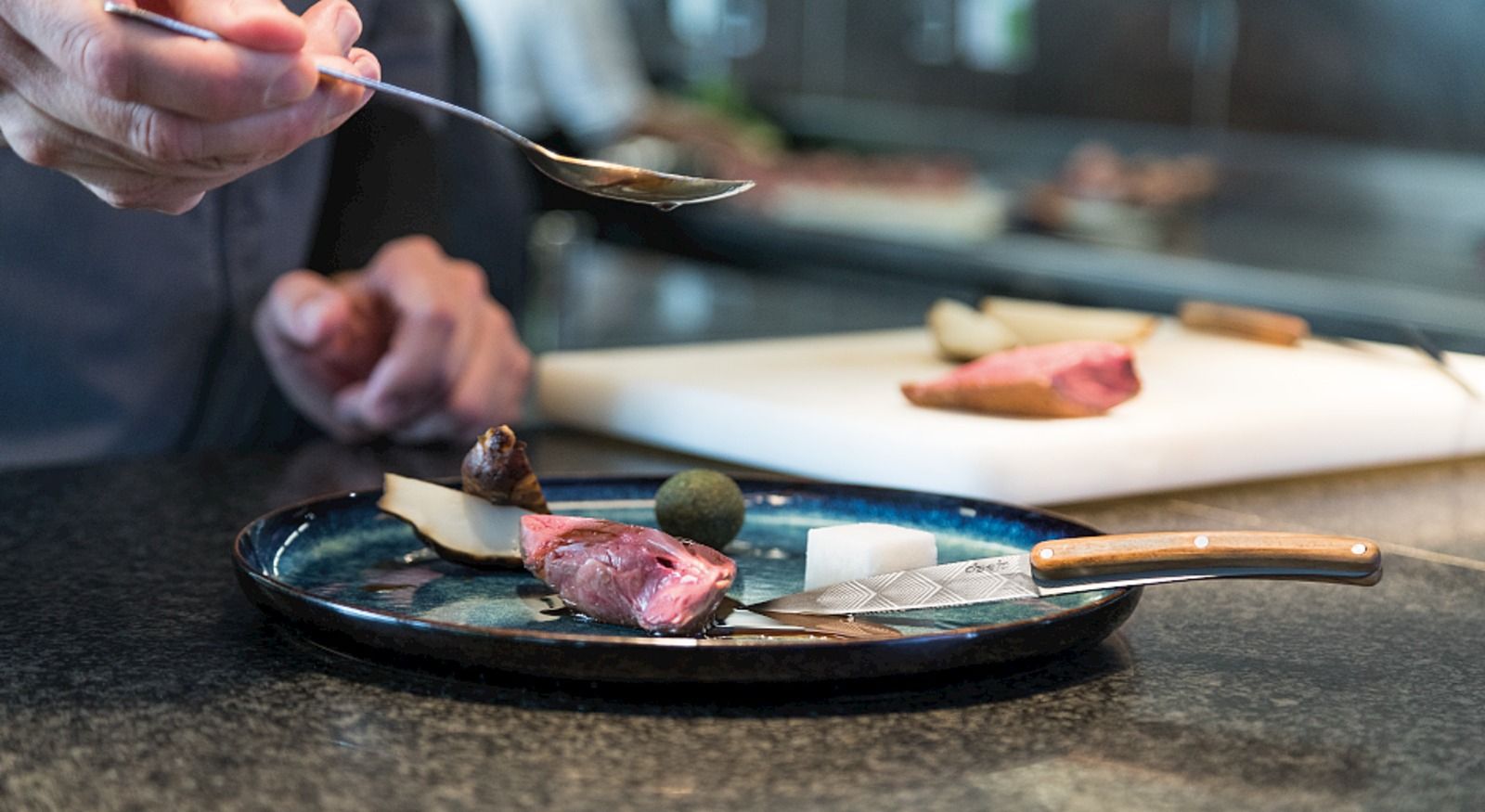 Each of Laurent's dishes is built around a single product served in two courses: pigeon, asparagus, mushroom…depending on the season. 'It is the first ingredient of a successful dish: respecting the seasons', he explains. The second key ingredient is to know the origin and production method. 'If it is poultry, for example, the quality of the husbandry, the environment in which it develops…everything is important. This is true for meat, but also fruit, vegetables, bread (therefore flour), cheese… I work only with partners I know very well.' And if Laurent does not find the product he's looking for, he engages a producer to make it according to his specifications and requirements. 'For our Comté 48 mois (from Fromagerie Napiot), for example: I select two wheels whose milk I know comes from a herd that has remained at altitude all summer. There the grass is richer, fatter, and gives the cheese a body that remains firm and will not crumble, even after 48 months of maturation!'
Laurent talks to us with enthusiasm about the blackcurrant bud, particularly prized in Burgundy for its olfactory power. He cuts one with his Deejo and hands it to us to smell, while warning: 'Don't taste it, it's too strong!'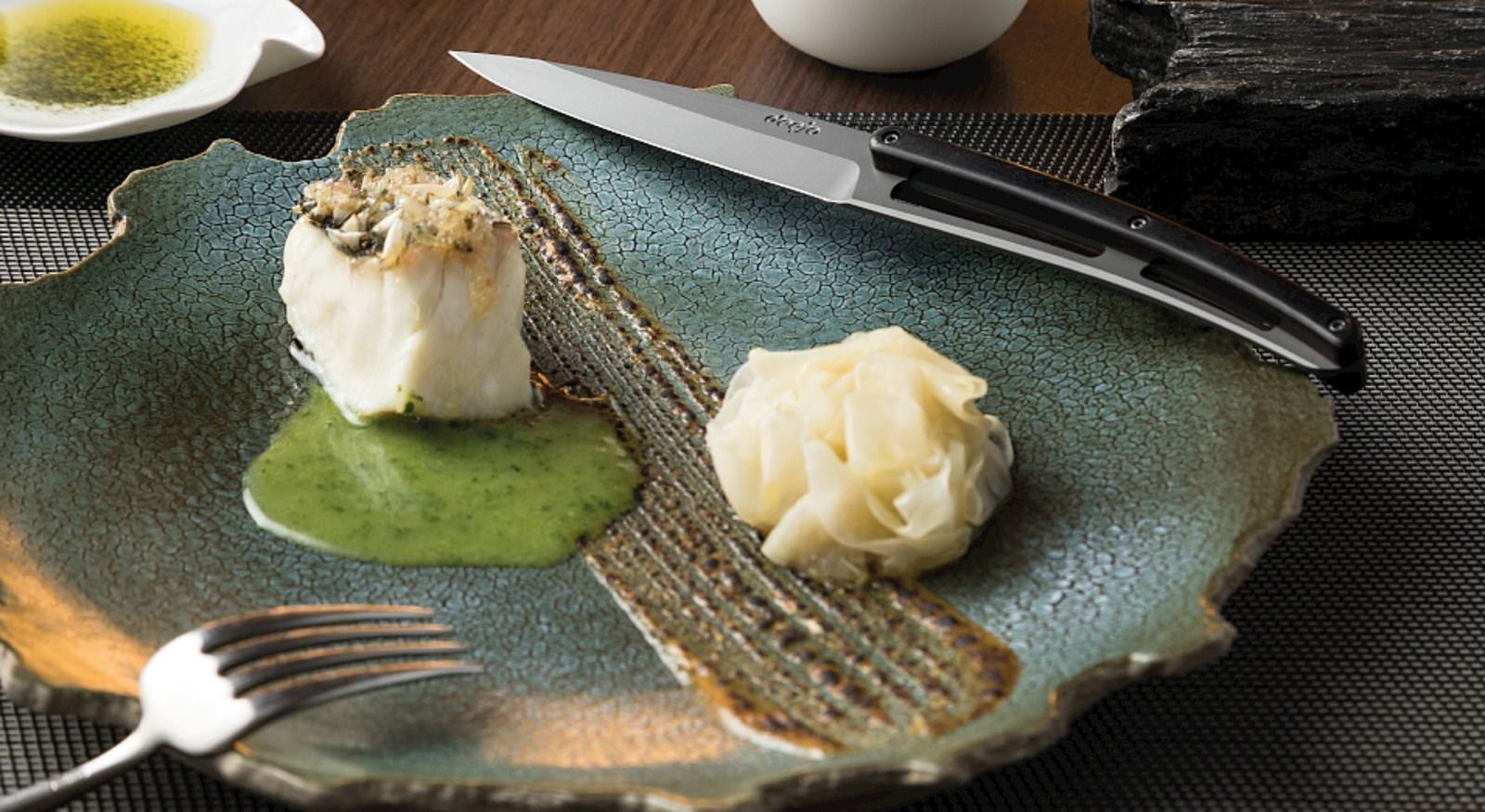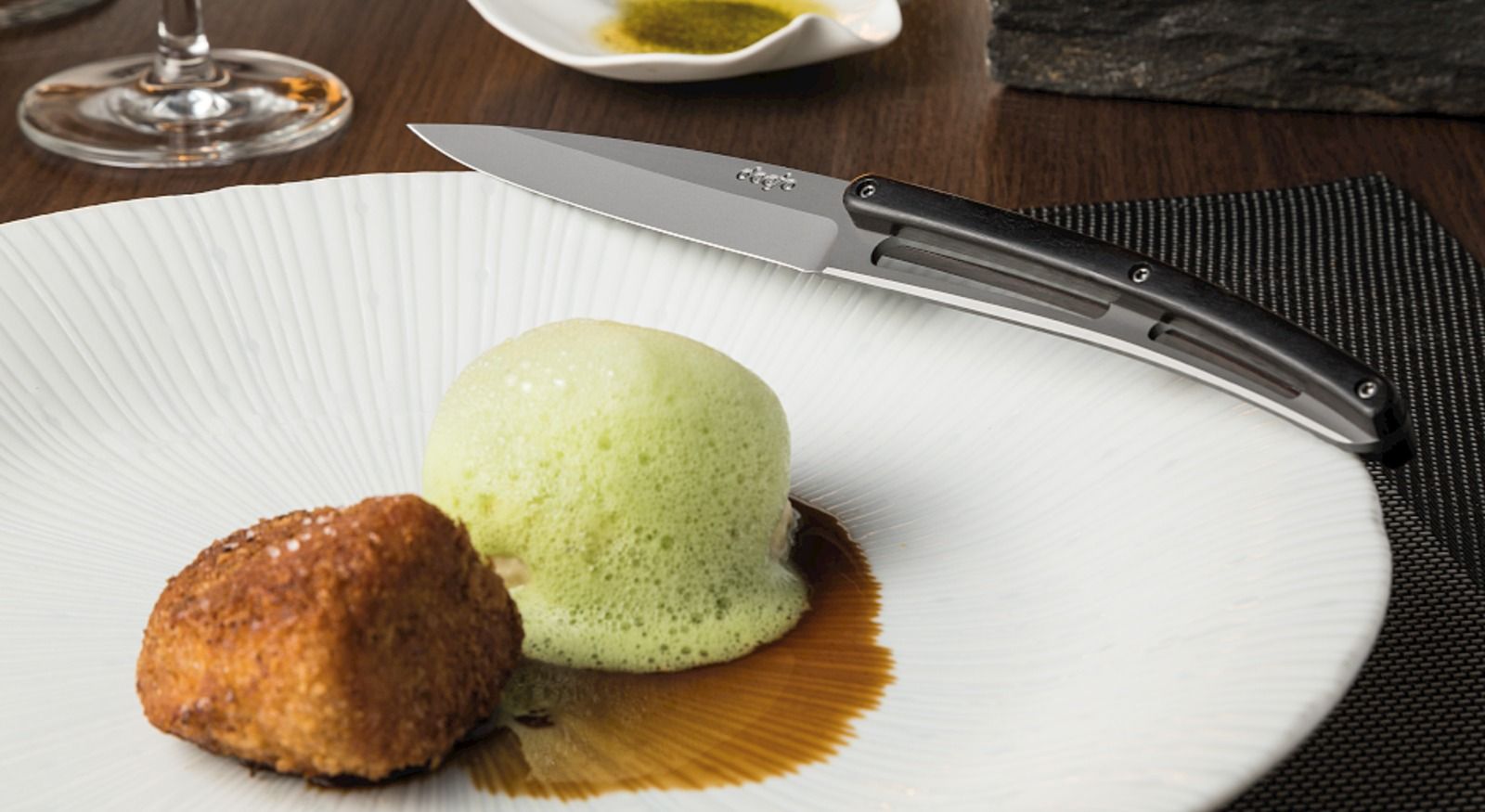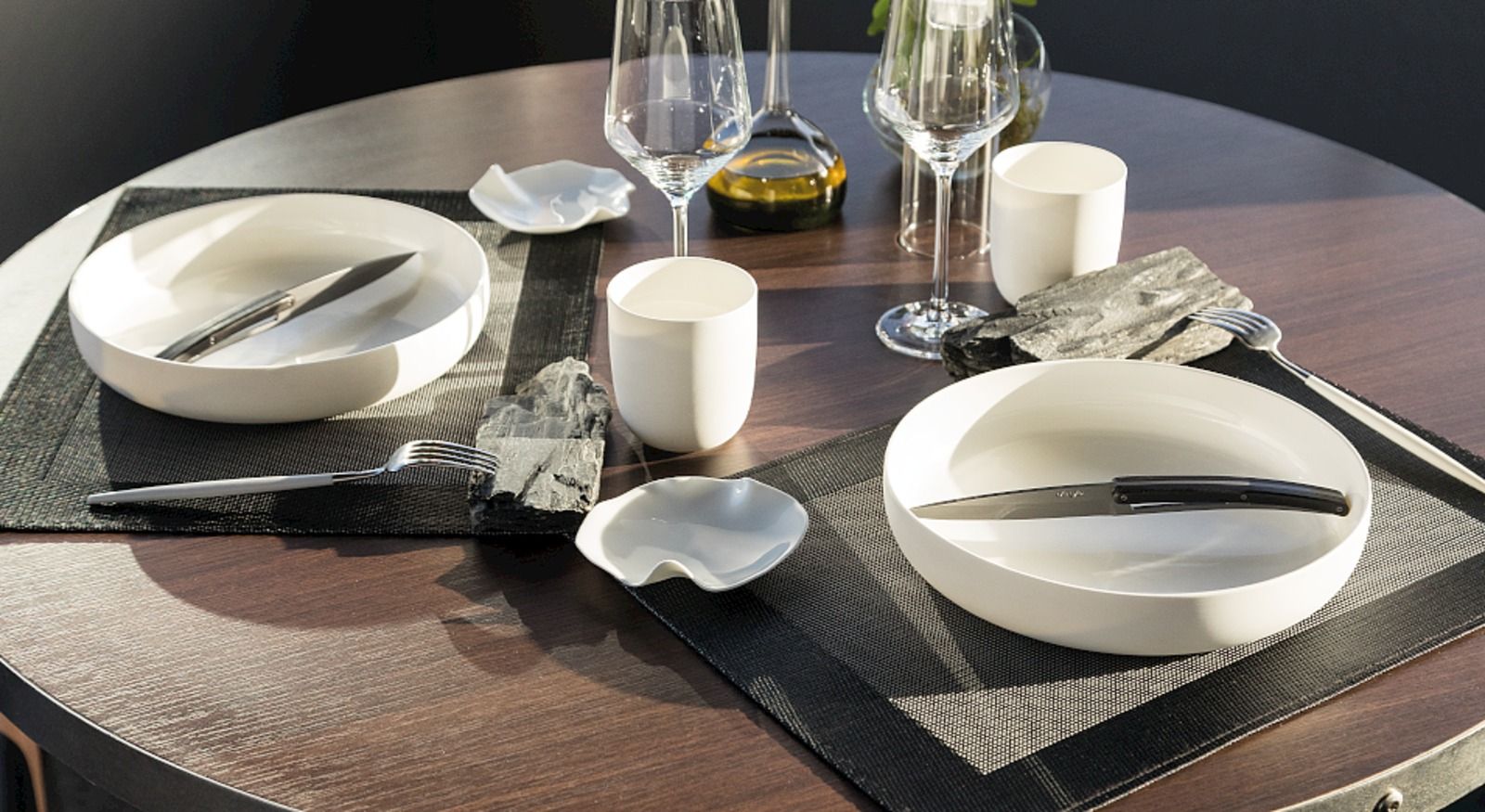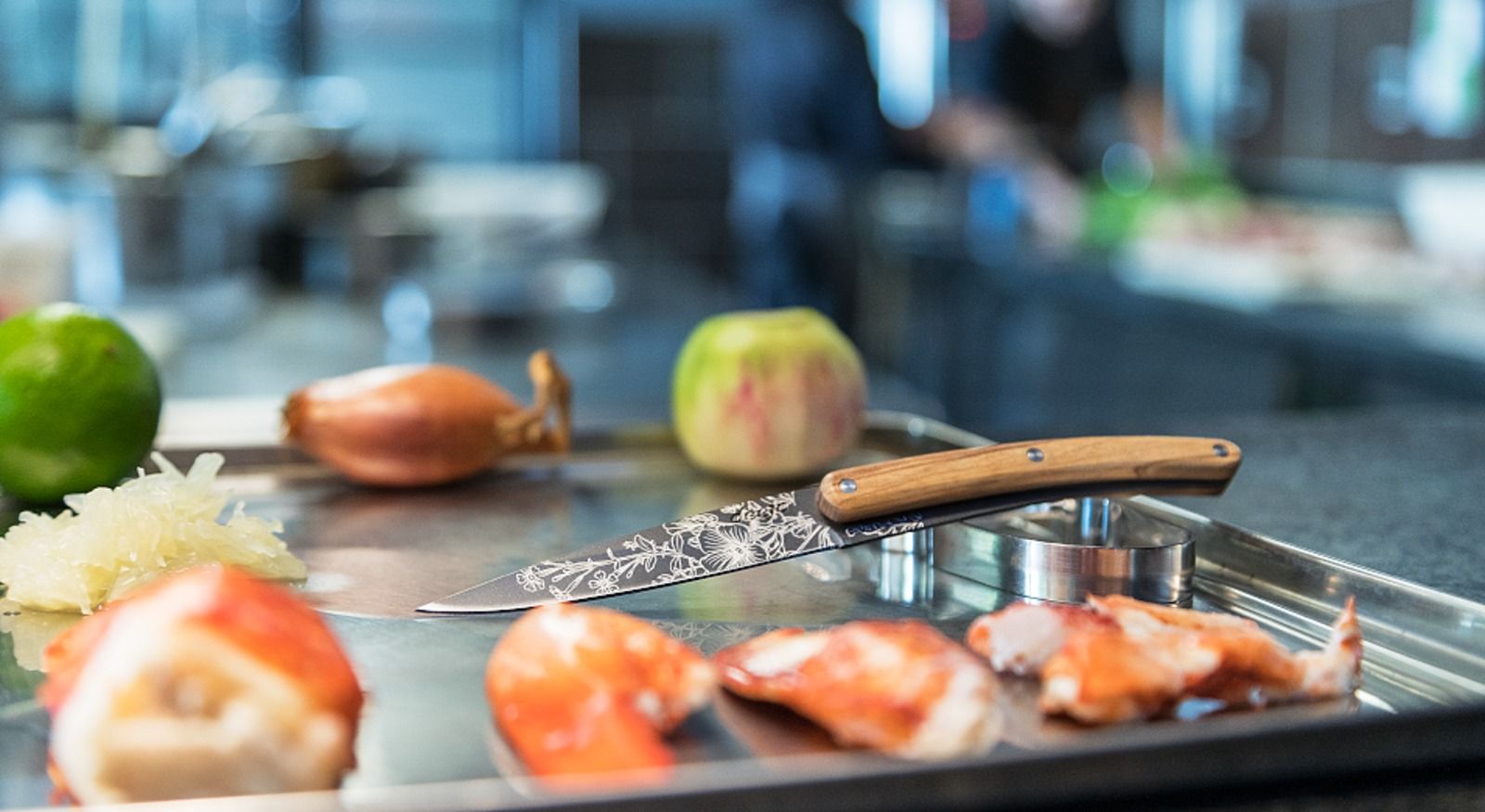 We will discover it later, at the table, with a Chardonnay cube to accompany a Corton pigeon from Patrice Sanchez...flavoured with blackcurrant bud pepper.
To all you members of the community of happy Deejo owners, if you find yourself on the Route des Grands Crus and your path leads you to Pernand-Vergelesses, stop by chez Laurent. And when you taste his delectable cuisine, do not hesitate to show him, among fine connoisseurs, your Deejo!
Le Charlemagne 1 Rue des Vergelesses, 21420 Pernand-Vergelesses www.lecharlemagne.fr - + 33 3 80 21 51 45